Bears
Neil Hayes at the Chicago Sun-Times tracks 25 mock drafts to see who they have the Bears picking.  It seems clear that a lineman of some type would be the ideal.  He quotes ESPN's Mel Kiper on why the Bears should take an offensive tackle instead of a defensive tackle in the first round:
"You can get defensive players in the second round area at the defensive tackle spot that can be a factor for you.  At offensive tackle, not so much. … It's just slim pickings. You have a better chance to getting a defensive tackle than an offensive tackle at that point."
Vaughn McClure at the Chicago Tribune documents the (somewhat belated) response of wide receiver Johnny Knox to criticism that former NFL runningback Marshall Faulk leveled at him last month:
"'I do understand what he was trying to say: There are things I can do a better job of in terms of protecting myself and Jay,' Knox said. 'I honestly see what he was talking about.'"
Elsewhere
ESPN's NFC North blogger Kevin Seifert goes over how a work stoppage will affect teams in the NFC North in terms of football-related issues.  He thinks it will be disastrous for the Vikings.  They will have no offseason with a new offense, a new quarterback and no NFL monetary commitment towards a new stadium.  This entry is a good read.
Darin Gantt at the Charlotte Observer thinks the labor stoppage could actually help Panthers quarterback Matt Moore.  Moore is the most experienced quarterback on the roster and a long lockout could prevent them from upgrading in free agency.  Any drafted quarterback might not be NFL ready.
Charlie Sheen responds to the NFL labor stoppage.
Seifert wonders if fans will be renewing their season tickets.  Renewing on time basically contributes towards the owner's lockout fund.
Gary Myers at The New York Daily News points out that if franchise tags are not determined to be valid in court, Peyton Manning is set up to become one of the most lucrative free agents in history.
Prominent sports agent Gary Wichard died Friday morning.
Former Cincinnati Bengals star Cris Collinsworth and 82 others were rescued from a seafood barge eatery on that broke free from gangplanks and floated down a flooded Ohio River.
Patriots safety Brandon Meriweather provides further evidence for the adage that nothing good happens when you are out at two o'clock in the morning.
On a related note, rumor has it that former Bear and current Patriots safety Brandon McGowan will be a free agent.  Via Pro Football Weekly.
Former NFL safety Matt Bowen breaks down the four verticals versus the cover two.  He uses the Bears defense of the Patriots at the end of the first half of their game last season as an example of how not to defend it.  As you can see from the diagram, right corner Charles Tillman fails to re-route the receiver inside at the line of scrimmage.  Free safety Major Wright also bites on an inside pump fake.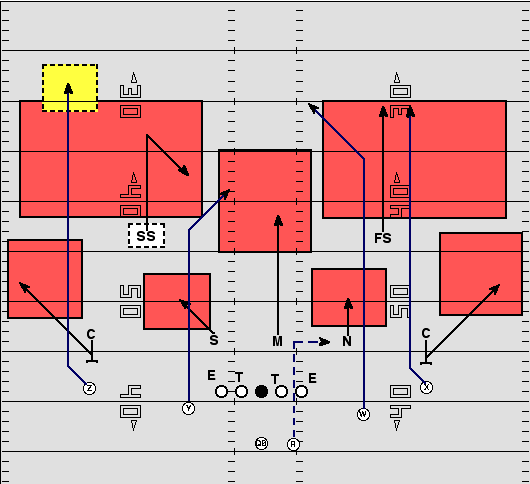 Bob Sturm at the Dallas Morning News is breaking down big Cowboys special teams plays.  In this entry he also highlights the almost impossible job that special teams coaches all over the league have.  Really good stuff.
Omar Kelley at the South Florida Sun-Sentinel explains why the Dolphins are "overpaying" Paul Soliai.  If the 3-4 has done one thing it has made nose tackle the hardest position to find outside of quarterback.  That will show during the draft as teams scramble to find them.
Former Colorado tackle Nate Solder had his pro day last week.  Matt Russell, who is Denver's director of pro scouting and who played for the Buffaloes before being drafted by Detroit in the fourth round of the 1997 NFL draft took on Solder.  The results weren't pretty:
One Final Thought
The Sports Pickle has designed an NFL version of Angry Birds.  Here's a screen shot: