Bears
Elsewhere
For those who care the NFL's full statement Friday about the ongoing "inflate-gate" investigation cane be found here.
Hub Arkush at chicagofootball.com tells you exactly why I dislike Seattle coach Pete Carroll:


"[Bill] Belichick was found to have violated league rules in "Spygate" and was fined $500,000, and the Patriots lost a first-round draft choice. Now he is implicated — although not charged — in the deflated footballs incident, and many are calling him a cheater.

"Carroll built a dynasty at USC and then had it all wiped out by findings of rampant rules violations while he skipped town just ahead of the posse to take the Seattle job.

"Asked about that on media day, Carroll responded he never talks about it because he still thinks the NCAA was wrong. Mmm huh.

"Earlier this season Seattle was fined over $300,000 and docked two 2015 minicamp practices due to Carroll overseeing illegal practices this past summer.

"I guess they're both cheaters, but only the Patriots coach is being branded with the scarlet C this week. Is that because Belichick has won so much more than Carroll, or because Carroll is so much more media friendly?"

Probably both. But neither excuses it.
One Final Thought
One has to wonder how the Bears expect Cutler to run an offense when this is what happens at home with the kids when Kristin Cavallari is away. Cavallari had apparently just arrived at the airport when this exchange took place: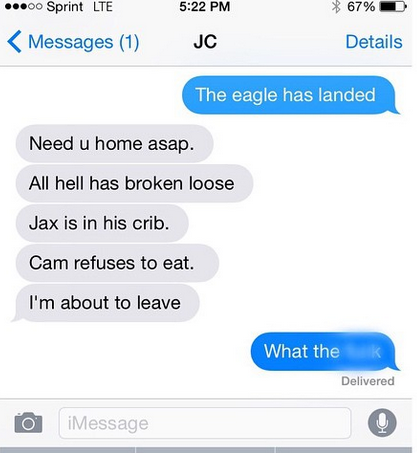 Jaxon is 2 and Camden is 8 months old.
[Edit 2/1/15: After getting some comments from friends on this post it occurs to me that I need to point out that I am, indeed, joking.

My sister in law was pregnant with twins (they would have been her third and fourth child) and my mother was going on about how much fun it was. My father turned to me and said, "She doesn't remember. You were three, your brother was two and we had newborn twins. There were evening where all I could do was shut the door, sit on on the bed and put my head in my hands."

Don't worry. I don't like Cutler but I wouldn't blame him for this.]