Bears
"I've never met an athlete who was more happy to be alive. 'There's no way you can always be as happy as you look,' I would tell him.   And he would smile and say something about getting only one shot at life and making the most of it.  I always thought that was a great quality about Sam Hurd. But maybe not."
I loved watching Hurd play special teams.  He was the kind of guy who jumped out on the screen as someone who was going with all out effort.  But sometimes players like that, while great on special teams, aren't as appropriate for the offensive unit, where that kind of effort must be coupled with smart play.
Hurd isn't some kind of master mind drug dealer.  He's a guy who came to believe that money leads to success.  So he approached it just like he approaches football.  What's the fastest way to make money?  "Drugs."  What's the fastest way to make a lot of money?  "Sell a lot of drugs."  So he dove in with boundless enthusiasm and ambition and little else.  It's a shame.  But looking back at it, maybe it's not that surprising.
"Asked if Hurd's shocking arrest will affect his own future, [Jerry] Angelo snapped at a reporter.

"'Whistle Dixie,' he said."
"Barber declined to talk about the play with 1 minute, 55 seconds remaining in Denver when he bounced an inside run outside and went out of bounds to stop the clock for the Broncos, who were out of timeouts.

"'I'm not trying to be disrespectful, but I just move on,' Barber said. 'Just bear with me.'"
Barber was interviewed by Larry Mayer, who works for the Bears owned website and Zack Zaidman who works the Bears game broadcasts (ie. the most Bear-freindly media members they could find). Zaidman told WSCR yesterday that the interview doesn't tell the whole story. Barber isn't dodging the questions. Apparently he has a real problem speaking to the media that sounds like it might be classified by some as pathological.
Dan Pompei at the Chicago Tribune writes an outstanding column that gives us all things to concentrate on in our disappointment over the Bears fall:
"Even good teams can't win every game. But they always can learn."
"With the moderate success of T.J. Yates in Houston, why not let Nathan Enderle play? It could not be any worse and at least you would know what you have. — David; Coral Springs, FL

"Because Nathan Enderle is not T.J. Yates. There is a reason [Caleb] Hanie was No. 2 on the depth chart and Enderle is No. 3. Throwing a quarterback on the field before he's ready defeats the purpose of trying to develop him and can have negative short-term and long-term consequences. Maybe I could envision a scenario of allowing Enderle play if the Bears have no shot of making the playoffs in the final game of the season. Then it would be just like a preseason game. Otherwise, he needs to stay parked on the bench."
"Don't jump to any conclusions about Angelo retiring. But if Angelo were to leave the team, I think [Tim] Ruskell would by far be the leading candidate to replace him. I think the Bears would be looking to maintain some semblance of the program Angelo started. Coach Lovie Smith likely would remain, and would need someone he felt comfortable with. Ruskell is respected and liked throughout the league and at Halas Hall. As for his Seattle history that you refer to, I think it's been portrayed inaccurately. Not everything he touched turned to gold, but Ruskell made a lot of solid moves in Seattle and presided over a team that made the playoffs three times in five years."
I can only say in response that the Seattle media didn't agree. They savaged Ruskell after he left. It appears that if things continue to go as they have over the last 10 years, we're probably going to find out the right of it because Ruskell is clearly the next in line.
Elsewhere
"I'll just say that I think, as players, we would probably like to finish this thing out if we get a chance," Rodgers said Wednesday of the team's goals for the stretch run, according to the Milwaukee Journal Sentinel. "And (have) a chance to maybe keep the Bears and the Lions out of the playoffs like the Bears tried to do to us last year."
"According to two sources, a group of defensive backs raised concerns about Pagac's play-calling — specifically, the timing and frequency of blitzes and man-coverage calls — within the first month of the season.

At times, some players simply refused to play the defenses called, yelling out their own coverages as they broke the huddle."
Brain Stelter and Amy Chozick at The New York Times write about the stiff price we pay to watch the NFL on television. Here's hoping those Internet alternatives they mention materialize soon. As someone who watches sports but very little else, something like being other types of shows on iTunes would be much more affordable. I'd love to get rid of cable.
One Final Thought
Given that its usually sold in "ounces" we're pretty sure Sam Hurd wasn't going to find enough people per week to sell his inventory to.  So here are some other possibilities for it:
10. Give it to a little pig for building material and then "Huff and puff and blow his house down"
9.  Burn it, pipe the smoke into Matt Forte's hyperbaric chamber and then resign him for a 7-Eleven burrito.
8. Spread it on Soldier Field on game day to cover up the mud.
7. Smoke a turkey with it and make everyone's Christmas really merry.
6. Make the world's biggest Christmas tree with it.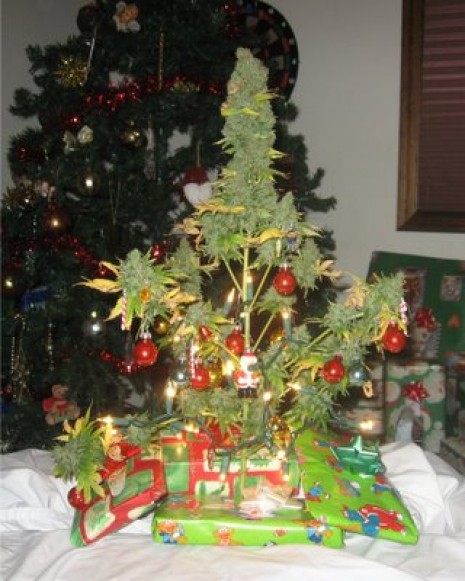 5. Pay the supplier with a check signed "Marion Barber" and make sure it bounces before game day.
4. Give it to Caleb Hanie as as a joke since drug tests are the only thing he can pass.
3. Bake it into Love Smith's pre-game brownies to settle him down a little on the side lines.
2. Distribute it to Soldier Field patrons and stage a historic re-enactment of the "Fog Bowl".
and
1. Give Jay Cutler the "munchies" and laugh while he tries to find where you hid his insulin.