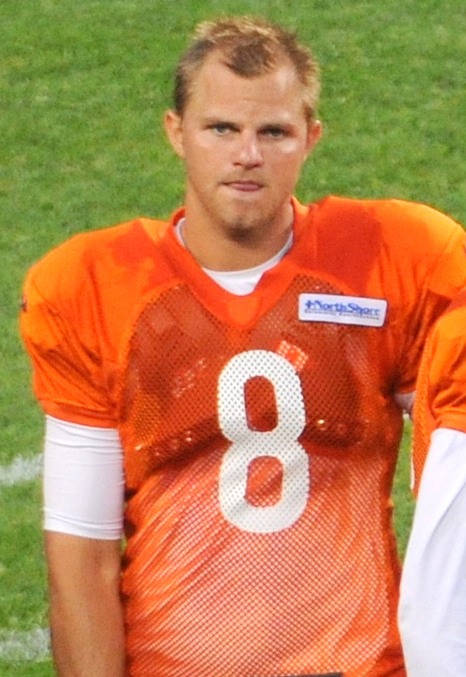 Some will deride the suggestion that Jimmy Clausen (above) could compete with Jay Cutler for the starting quarterback job despite John Fox's suggestion that there will be an "open competition" (via John Mullin at csnchicago.com). And I'm not laying money on Clausen, either, because Cutler's got more physical talent. But I think some may be underestimating Clausen.
Clausen started for the Panthers in 2010, the year he was drafted, and performed poorly. He didn't see the field after that until last year when he mopped up in 3 games (at least two of which were utter disasters when he got his chance). He got one start in game 15 last year where he performed better than his statistic indicated (his passer rating was only 77).
What would you have said about former Bear Josh McCown before 2013? Perhaps its more than a coincidence that when surrounded with very good skill position talent and with decent protection he bloomed. And perhaps it's more than a coincidence that when he lost that talent, he fell apart. Isn't it possible that Clausen is every bit as good and will show more with decent talent around him?
I'm by no means convinced that a mediocre quarterback who did all of the right things couldn't be every bit as good as Cutler or better. Food for thought.
Admittedly its based upon only one start, but Clausen looks to me like the kind of guys who might, maybe, bloom late. I'll be interested to see. There's always the remote possibility that if the coaches decide that they can win with him, they'll go with Clausen over Cutler just for the intangibles and because Clausen is so much less mentally fragile. A very remote possibility to be sure. But a possibility.