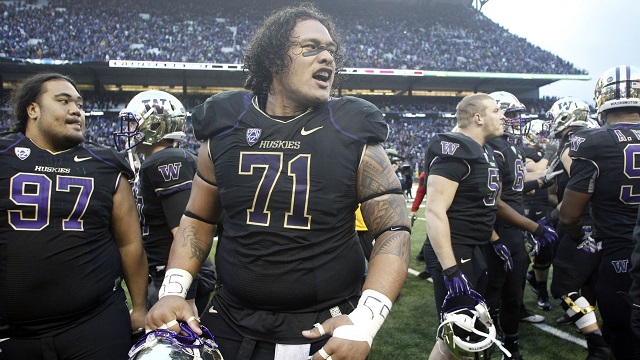 Kevin Fishbain at chicagofootball.com evaluates Washington defensive tackle Danny Shelton:
"Early on in the draft process, once we knew the Bears would be running a 3-4 defense, Shelton was the sexy choice for Chicago in mock drafts. Several draft analysts still peg him to the Bears, and it makes sense — any good, 3-4 defense needs a stout anchor to plug the nose."
"There are three knocks on the Shelton-to-the-Bears narrative: one, as listed above, his Combine results bring questions to his short-area quickness. Two, Vic Fangio hasn't necessarily needed a 330-plus-pound space eater in the middle of his defense (though, Isaac Sopoaga, the nose tackle from 2011-12 under Fangio, is 330 pounds). Three, and this is a line of thinking I can get on board with, is that Shelton is not the seventh-best player in the draft, and there will be better players available if the Bears stay at No. 7, like a pass rusher or one of the top wideouts.

"I'll throw one more caution to those on the Shelton bandwagon — the first round is deep at defensive tackle, with players like Eddie Goldman, Jordan Phillips and late first-/early second-rounders Carl Davis and Malcom Brown. The Bears could trade down and get one of those players, too, or find a quality interior lineman at the start of the second round."
A couple comments:
The lack of short area quickness based upon Combine results is nonsense. Sheton shows amazing quickness for a man his size on video and both Fishbain, himself, and former Bears scout Greg Gabriel confirm that in this very same article. He's not just a pile of blubber that will act as a run stopper. He's going to supply pass rush.
I agree that Shelton isn't the seventh best player in the draft. In my mind, he's the fourth best. Shelton has great instincts and pretty good intangibles that make him a playmaker and a very valuable commodity.
Fishbain is right in that the Bears absolutely should trade down if they can. For one thing, if they can stay ahead of Cleveland ar 12, they can still get Shelton. For another, as much as I like Shelton, they need the picks more. If they get down into the area where an Eddie Goldman of a Malcom Brown become reasonable options, say in the lower 20's, then that means they've picked up a lot of them.
I really dislike it when pundits downgrade a prospect based upon Combine results, as Fishbain is apparently doing here. All indications are that Danny Shelton is a heck of a football player. Absent a trade down – and its going to be tough to pull that off – I think Shelton is the best available in the seventh slot.