I will be on vacation until Feb. 28, meaning I'll once again be out of the country for a major NFL offseason event.  At least its only the Combine and not the Draft like last year.  In any case posts will be sporadic (if not non-existent) during this time.
Bears
The extension of Tice in particular is significant because if he'd been truly unhappy with the Bears for blocking him from interviewing for the Titan's then vacant offensive coordinator position, he probably wouldn't have signed a new contract.
I'm wondering if the lockout language was the standard or if it is significantly different in these extensions.  Its been reported that the other Bears coaches will take a 25% cut in salary during a lockout  with a team option to dismiss after a 60-day notice.
Steve Rosenbloom at the Chicago Tribune has a wild theory on why the Bears refused to allow the titans to talk to Tice:
"If Mike Martz still thinks the Bears can run his offense with a 4-1 pass-run ratio and in fact he insists on calling it that way, then the Bears might all of a sudden need Tice as their own offensive coordinator after, say, Game 3, if not before."
"Ruskell, now the Chicago Bears' Director of Player Personnel, tends to prefer seniors with 40-plus starts from major colleges. He also looks for undersized, try-hard players, as he believes they are bargains in the skill set vs. draft pick equation. Problem was, Ruskell had almost no feel for the concept of athletic upside, and he whiffed a lot, both in the draft and in free agency, when he tried to pinpoint those athletes who would develop into stars based on pure physical potential."

"Take enough of those low-ceiling 'tweeners and put them in the wrong places, and that's how you'll go from Team President to watching college tape for a living."
The fairness of this evaluation aside, if Farrrar thinks Ruskell will be taking undersized tweeners with Mike Tice anywhere near the draft room, I think he's got another thing coming.  Tice is probably going to be looking for the biggest guys he can find.  Thanks to Chris at the Chicago Bears Fan Forum for pointing me to this article.
Former Bears offensive coordinator Ron Turner on the The Waddle & Silvy Show on ESPN 1000 (via Jeff Dickerson at ESPNChicago.com) talks about the value of having a clear number one receiver, something the Bears don't have.  Turner oversaw Reggie Wayne as the Colts wide receivers coach this season.
"I don't think [you can win at a high level without a receiver like Wayne].  It would be really, really difficult. You have to have that guy you know you can go to, a guy that's going to be there every game for you, making big plays. You have to have that. If you have that, it takes so much pressure off the other guys and enables you to run the ball.

"If you have a guy like that, it alters your defensive gameplan a little bit."
"Ben Ijalana, OT, Villanova

"While the questions after a playoff loss centered around the toughness of the quarterback, many Bears fans forgot that Jay Cutler was hit as much or more than any other QB in the league all season. Even on many of his good plays, he was dodging rushers. The Bears did some decent work on their line in last year's draft with a late steal but should attack it early in 2011. Ijalana offers versatilty and the ability to step in early. Solid fit."
Ijalana would be the fifth offensive tackle off the board.  Guard/Center Mike Pouncey would already be gone but its worth noting that guard Danny Watkins would still be there according to this scenario.
Captain Morgan is stealing votes from Rahm Emanuel now:
Elsewhere
"Vick, who was named The Associated Press 2010 Comeback Player of the Year in the NFL, was confronted by radio host/standup comic Richard Hunter at an event in Dallas before Super Bowl XLV.

"Hunter says he adopted one of Vick's former dogs. He told Game On! Wednesday that and other families who adopted Vick's dogs have been "flooding" the producers of Winfrey's show with calls and emails asking the "voices of the victims' families" be heard on the episode."
"One thing we never were able to see in 2010 was a fully operational Cowboys offense. By the time Dez Bryant was able to participate in the offense, Tony Romo was lost for the season. In 2011, with Miles Austin, Dez Bryant, Jason Witten, and Tony Romo all available for 16 games (health pending) the results have a real chance to be something special. Austin demands a double-team, but with Bryant on the other side, there are some real classic conflicts that defenses will have to face."
I'm not surprised that former Ohio State quarterback and compulsive gambler Art Schlichter is in trouble again.  But this story from Mike Wagner at the Columbus Dispatch shocks even me.  What a nightmare.
Hmmmm…   I'm a big fan of ESPN's Tony Kornheiser.  I'd like to think that there's more to this than meets the eye.  From John Feinstein:
"Tony Kornheiser has specifically asked me not to bring up Dan Snyder on his show. I feel queasy about this but Tony's my friend and it is his show. It isn't as if there aren't plenty of other forums for me to talk about Snyder and Snyder is one of those guys Tony simply isn't going to go after—not because he's paid by him but because he likes him."
Kornheiser has a responsibility to report the news no matter how he feels about the people involved but he's under no obligation to discuss other people's opinions beyond that.  But having said that, it would be much more like Kornheiser to let Feinstein say his piece and then defend Snyder.
Kiper and Todd McShay, also at ESPN, talk about the draft's wide receiver class.  I love the fact that Kiper digs into the Division III ranks to find some kid fro Mount Union: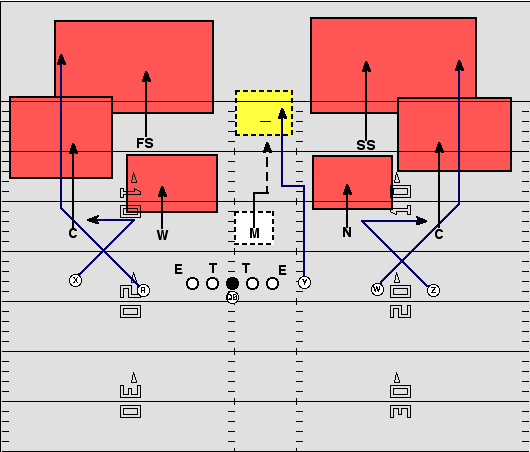 Here's a video of the play in action:
One Final Thought
Joe Reedy at the Cincinnati Enquirer quotes new Bengals offensive coordinator Jay Gruden on why he likes to spend the game calling plays from the sideline rather than from in the booth:
"I like to be down there when things aren't going where they should.  It's important for me to calm everyone down or stick my foot up where it should be. A big part of the job is controlling the emotions. Everyone can call plays but a lot of coaching has to go with controlling guys and make sure guys aren't too up or down."