Bears
Former Bears safety Doug Plank comments on the audio of a Gregg Williams pregame speech where he talked about targeting players for injury.  Via Fred Mitchell at the Chicago Tribune:
"'I can understand how that is pretty chilling to a person that has never been involved in a violent sport like football,' Plank said. 'It takes a lot to run into someone. I don't think that's natural human behavior. Most of it is mental conditioning. Not only the practices all during the week, but it's also some of the dialogue that comes from your (coaches).

"'To play this game, you have to play with high emotion. … I like to feel I was one of those. You have to take yourself to some other mental state to do that on a regular basis. You have to ignore your survival instincts. Every time you run into someone, there is that fear factor. … You have to condition yourself.'"

"'We're all players, and we're all trying to accomplish the same thing to help our team win and make the fans happy. But at a certain point, there is an accountability factor.'"
Brad Biggs at the Chicago Tribune has some good reasons to believe the offensive line will improve even with no changes:
"First, the sacks didn't pile up last season until after [Jay] Cutler went out with the thumb injury in Week 10. He was sacked 23 times in 10 games, which put the Bears on pace for a manageable number of 37. Cutler was sacked only five times in his last five games.

"When Caleb Hanie entered, chaos ensued. He was sacked 19 times in four games before being benched, and Josh McCown was sacked seven times in the season finale against the Vikings in Minnesota.

"So, a healthy Cutler should trigger improvement. And when he left, [former offensive coordinator Mike] Martz took most plans for seven-step drops with him. The introduction of quarterbacks coach Jeremy Bates to the system likely will bring some elements that helped Cutler be successful for the Broncos with rollouts and moving pockets. Those wrinkles also should help against pressure just as the addition of a top-flight receiver in Brandon Marshall should."

"[Gabe] Carimi (knee) and left guard Chris Williams (wrist) are returning from injuries. That will allow Lance Louis, who spent nearly all of 2011 at right tackle, to move back to guard where he is a better fit."
"Hill is going to need to become a more consistent route runner. However, at 6-5 he showcases some natural short-area quickness to his game and knows how to go up and get the football vertically. He's one of the draft's elite size/speed combos at the receiver spot and his stock is on the rise."
"Wide receiver—Stephen Hill, Georgia Tech. In the triple option offense, Hill's primary role was to block. He had only 1,248 receiving yards in college. The routes he was asked to run were pretty much straight ahead or slants. Hill may be the most gifted wide receiver in the draft, but he needs to learn to run routes and get in and out of breaks."

"Offensive lineman—Jonathan Martin, Stanford. He could have used another year in college to refine his techniques. One scout found him to be "raw" and "inconsistent" on tape, but said he wouldn't be surprised if eventually he turned out to be the best tackle in the draft. Martin also needs to be stronger to thrive in the NFL."
Elsewhere
Pompei also explains why QB Ryan Tannehill is climbing so high on draft boards.  Tannehill has tremendous physical talent at a position teams are desperate to fill.  But he only played 19 games at QB at Texas A&M and no one knows what kind of a feel for the game he has or whether his decision making will get better.
"Really, the best chance for Tannehill to succeed and reach his potential is for him to be chosen where he should be chosen, in the second round. He is a quarterback who needs to be developed. If he goes as high as it appears he will go, he will be faced with unreasonable expectations and pressure to produce too quickly.

"Ultimately, Tannehill's meteoric rise probably will not work out well for the team that drafts him, or for Tannehill."
"Some teams prescribe maximum heights for each position, and if a prospect is taller than the second tallest productive player in the NFL at that position, he is flagged. [Brock] Osweiler is flagged on those team's boards. Other teams say a quarterback can't be too tall. Most agree the ideal height for a quarterback is 6-5."
"Still, Red flags can cause a player to slide, and parting ways with an agent three weeks before the draft always is a red flag, no matter who initiated the breakup."
The Sports Pickle brings you your tweets of the week like this pearl of wisdom from Raiders linebacker Aaron Curry: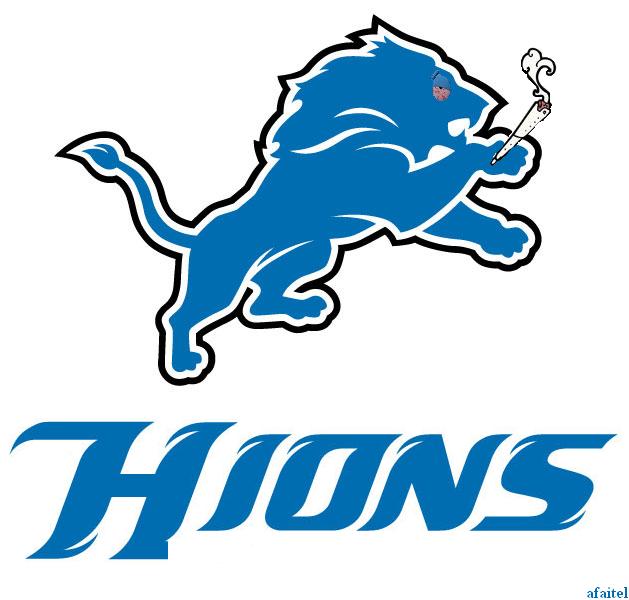 And on a related note, we have this photo of Lions Mikel Leshoure contemplating his latest run in with the law.
One Final Thought
ESPN's NFC North blogger Kevin Siefert addresses Morris Claiborne's score on the Wonderlic Test.  Claiborne's scored a 4 out of 50, the lowest score in at lest 10 years according to ESPN's Adam Schefter.  Siefert makes the case that the score isn't a big deal.
I was all ready to go off and make the case that Claiborne's score should be a big deal.  A good agent can prepare a player for it with just a little effort now a days and I would have claimed that there was no excuse for scoring so low.  In fact, I had the comment written.  Then I read this from Pompei:
"Morris Claiborne's reported Wonderlic score of 4 didn't shed light on Claiborne's intelligence as much as it shed light on his learning disability. Claiborne, according to NFL front office men who have done their homework, has trouble reading. At Louisiana State, the cornerback was given extra time for tests. The consensus is Claiborne has enough football smarts and instinct to play at a high level in the NFL for a long time. Cornerbacks don't have to be Einsteins in the large majority of NFL schemes, and many are not. Claiborne's coaches will have to make allowances for him, however. Claiborne can't be expected to learn through a playbook, rather, he will learn best from walk throughs. The only issue is whether or not that will impact the other cornerbacks on his team. But multiple personnel men have said Claiborne is a great, unspoiled, engaging kid who they would like on their team."
I guess I can't blame myself for being ready to criticize Claiborne based upon what I knew.  But the lesson learned is that no matter what you think, you always have to keep you opinions moderate and leave room for alternative explanations.