Bears
Any time the Bears want to rush the passer, fine by me.
Having said that, one of the unsung performers of the offseason was Israel Idonije, who I thought stuck out every time I saw him play. Apparently I wasn't the only one. From Pro Football Weekly's

Whispers

column.
"We hear the Bears are very happy with the way DE Israel Idonije has performed in training camp and the preseason. Idonije is still the starting left end, but his role has changed since last season. He has been moving inside to three-technique in the nickel package to clear a spot at left end for rookie Shea McClellin, and the team is optimistic about the push Idonije can provide from the interior."
I had high hopes for Stephen Paea going into this season in part because I have no faith in Henry Melton. Unfortunately Vaughn McClure at the Chicago Tribune reports that, as I feared, Paea's ankle injury is likely to linger into the season.
"Asked if there is a measure in place for the linebacker to do more this season, [linebacker Lance] Briggs turned coy.

"'That is kind of a wait-and-see type deal,' he said. 'We don't want to reveal too many secrets for the 2012
season. I can tell you one thing, nine years in, eight years in Lovie's system, there is a lot of trust in our
locker room.'

"Don't fall into the trap of thinking the Bears work exclusively in a two-deep zone. There is more going
on.

"'We like them talking like that. That's what you want,' Marinelli said. 'We have some really good
blitzers.'

"In desperate times, perhaps they will be used more."
"He is still adjusting some to his new surroundings. He's working to get into football shape after missing offseason work to deal with the emotional personal issues he's faced. Price didn't finish practice on Tuesday after he fell ill. He's had some nagging injuries and needs to be better conditioned."
I wish had more confidence in Price. But I really wonder if Price doesn't need a heart transplant. The Bears may be throwing a roster spot into a sink hole…
Biggs tells us that Rashied Davis got an injury settlement from the Bears. I love the way that Rashied Davis all of the sudden became "injured" right before they released him. You hear stories about how veterans get wind of such things and suddenly go for an injury settlement as a nice little going away present. He may have decided to milk it.
If [quarterback Josh] McCown did not convince the Bears it's worth keeping him as a third quarterback, the game was more
meaningless than anyone thought.
Having said that, he does provide a good explanation for why McCown eventually didn't make it:
"He is not a fit on the Bears roster at this point, which is why signing him in March was odd. But that isn't to say he won't fit on the Bears roster at some point this season, and that might be why signing him in March was wise.

"Now McCown has experience in the system and knowledge of the Bears receivers. If Jay Cutler or [Jason] Campbell goes down, McCown likely will get the first call if he is available."
"Why will the NFL not do away with four preseason games? This game represented 10 percent of the revenue the Browns will get for home games. Who in their right mind believes NFL owners are going to give away that kind of money?"
Exactly. It still surprises me when I run into people who don't understand that the players don't actually start getting paid until the first game. Those preseason games are pure profit.
"Under the new rule, each team is allowed to designate one player per season for a potential return from the IR and the designation must be made at the time the player is added to the reserve list. The player must have a major injury that renders him unable to practice for at least six weeks. The player is not eligible to return to practice for a period of six weeks and cannot be reinstated to the active 53-man roster for at least eight weeks. At any time after the six-week period of not practicing, the player can begin a three-week period where he does work on the field to be evaluated for a potential return to the active roster."
Sean Jensen at the Chicago Sun-Times notes that wide receiver Johnny Knox was put on the PUP list and not IR (before the rule change). That means they think there's a possibility that they could bring him back after the sixth game. Interesting.
"The Bears cut a pair of draft picks as cornerbacks Isaiah Frey and Greg McCoy were placed on waivers. It was notable the team gave up on both the sixth- and seventh-round picks, a departure from tendencies in the Jerry Angelo era. Instead of being forced to cut fullback Tyler Clutts, the Bears found a trading partner. He was dealt to the Texans for cornerback Sherrick McManis, a former Northwestern standout Houston drafted in the fifth round in 2010. McManis projects to be a special teams addition."
"How about moving J'Marcus Webb to guard? He could be All-Pro. Let Chris Williams play left tackle this year, where his floor is higher than Webb's, and look to get a long term fix next year. Jim P., Chicago

"We are not sure if Webb can play left tackle in the NFL yet, but we can be reasonably sure he cannot play guard. He is 6-8 and has long levers. I don't think there is a guard in the NFL built like him. He's too gangly to play guard. The game is quicker inside, and Webb does not have the quickness for that position. He also would struggle to get leverage against more compact interior defenders. He is perfectly built to play tackle, however. That's why the Bears have not given up on him."
Pompei answers another question about the line that's been bothering me as well:
"The Bears starting left guard position appears to be a battle between Chris Spencer and Chilo Rachal, but why isn't Edwin Williams being considered for the job? If I recall correctly he finished last year at the LG spot and played solid. Does Mike Tice want Williams to focus solely on the center position? Matt, Montreal

"Williams might be able to fill in for a guard in a pinch, but his future is at center. Williams does not play with the kind of power and leverage the Bears want their guards to play with. You could see it in a third quarter play against the Giants last week. Linebacker Greg Jones powered Williams back two yards and then disengaged to tackle Armando Allen in the backfield for a loss of three yards. Williams does have the athleticism for the center position.
It did not escape the notice of his coaches. Veteran defensive teammates even warned Hardin about his
style.
What irritates me about this is that every player that I saw quoted after the accident said that Hardin's technique was fine. But clearly it was an issue. Covering for a player is one thing. Out right lying, particularly when kids are watching to learn how to play the game, is something else all together.
"Quarterback Jay Cutler downplayed the looks the tight ends were getting in games last week, saying, 'Just because the ball didn't go to them last game or the preseason game before that, it's really not an indication of what we're going to do with those guys.'"
We shall see.
"'He had a great game,' Toub said. 'He did a really good job. We just allowed him to punt it away and he relaxed and he carried over what we have been seeing in practice onto the field. First two games, not so good. That third game, he was really good.'"

"It's interesting that Toub said Quigley was just allowed to 'punt it away.' Often times, Toub is very specific about how he wants his punters to perform, asking them for directional kicks. Whether that is an issue here for the undrafted rookie from Boston College is not known.
Biggs also quotes Toub on Devin Hester:
"Toub also said Devin Hester has lobbied for more work as a returner in preseason this summer:

"'We gave him one return every game,' Toub said. 'We had him in there for every preseason game. That is something a little different than what we have done in the past as per his request. He wanted to get a little more touches so we think he is going to be a lot more ready for the season than other years.'"
"'It's more of a spread offense. It gets guys in mismatches,' Hester said. 'We'll have four or five playmakers on the field, and it's going to be like, 'Who are you going to double-team?''"
Brandon Marshall. They're going to double team Brandon Marshall, Devin. And if just one of you other guys becomes the playmaker everyone thinks you are, I'll be one happy and surprised man.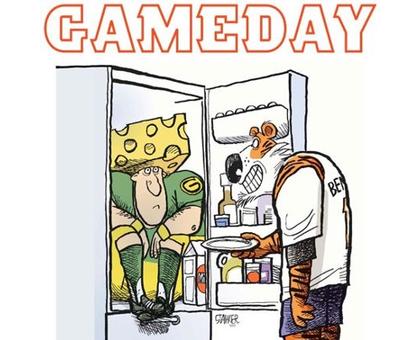 Elsewhere
"'It's not only the throwing programs that have developed, the seven-on-seven camps, but take a look at the media in general and the Internet,' Bears general manager Phil Emery said. 'Just look at a school's website, a school's in-house reporting staff. These guys are so used to dealing with the media and dealing with high-level pressure and all the attention it brings, being a quarterback at a major-college program is huge.

"'Tennessee, you look at what they do just on their website and the layers and layers of reporting that all the major schools do now through their own vehicles and the market they try to generate in the fan interest, these guys are really brought up to handle pressure. Where maybe not so in the era before Matt Ryan and Joe Flacco. Yeah, there was pressure, but not that kind of 24/7, Internet, blogs writing about how good or bad you are every day in practice and games. Who you see, what you do — these guys are really used to dealing with it.'

"So a Ryan Leaf, drafted second to Peyton Manning in the 1998 draft, couldn't hide the fact that he was a meltdown waiting to happen these days. A JaMarcus Russell, picked first overall by the Raiders in 2007, would be exposed as unprepared."
Like many people, I was thinking that once healthy, Jeff Otah might be an option for the Bears at left tackle. Maybe not… From Pro Football Weekly's

Audibles

:
"You want to know what is wrong with (ex-Panthers ORT) Jeff Otah? He never really played football. He does not know how to handle pain. He got hurt when he was at Pitt in one of the games I was at, and you would have thought his leg got amputated. He was screaming like a child, and it turned out to be a sprained knee or some mild injury. We had him in for a visit too, and he was staring off into space. … He needs it to be kept simple. Someone will pick him up because he is still young and tackles are so hard to find."
One Final Thought
Colts general manager Ryan Grigson on head coach and former Raven's defensive coordinator Chuck Pagano. Via Pompei.
"'I think leaders are born,' Grigson said. 'Chuck has that. He knows how to identify with each and every guy out here. Just like he did with Ray Lewis and Ed Reed, and then with rookie free agents he had that he turned into players. There is such a vast array of guys he is able to reach.'"