Matt Bowen at the Chicago Tribune describes how the Bears might use the short passing game to move the ball today.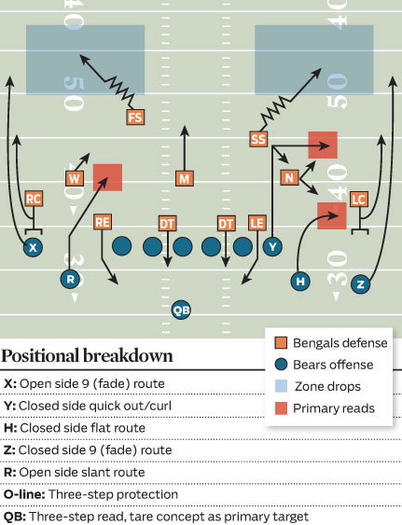 "Forte's alignment

"[Head coach Marc] Trestman gave us a small sample of [Matt] Forte's role in the Bears' new playbook throughout exhibitions by aligning the running back in multiple positions. That allows the Bears to remove Forte from the core formation and create inside matchups versus both zone and man defenses. Here, Forte will run the backside slant and target the hole between the Will (W) and Mike (M) linebackers. This is another quick read for Cutler on a high-percentage middle of the field throw that could produce an explosive gain once Forte gets past the second level."
Good point. Many of us saw former offensive coordinator Mike Martz try some of the same things with Forte with some success. Forte's role won't be strictly as a screen receiver or as a dump off option here. He'll be an integral part of creating defensive mismatches, frequently being lined up opposite linebackers (assuming the Bears show they can run the ball).
One other point that's worth noting here. The classic West Coast offense is all about the short passing game as described, for example, here. The reason why the cover two defense was so successful at stopping it is because few teams found they could execute with the consistency needed to work their way down the field in small chunks of yardage without making mistakes. One holding penalty or one bad dropped pass can put the offense in a hole it can't get out of and you're punting. That will be the Bears challenge this season, starting today.