According to Michael David Smith at profootballtalk.com the Buccaneers have thrown away $50 million on defensive backs over the last couple years:
"Friday's trade of safety Dashon Goldson became the third time the Bucs have cut bait on a secondary player who had been an enormous investment for the Buccaneers. The Bucs signed Goldson to a huge contract two years ago, only to trade him to Washington for the paltry compensation of swapping a seventh-round pick for a sixth-round in the 2016 draft."
"The Bucs also traded their 2013 first-round pick and 2014 fourth-round pick to the Jets for Darrelle Revis, paid Revis $16 million, and got one season of work out of him. After spending last season with the Patriots, Revis is back with the Jets.

"And the Bucs used the seventh overall pick in the 2012 draft on safety Mark Barron, who lasted two seasons in Tampa Bay before the Bucs traded him to St. Louis for a fourth-round pick and a sixth-round pick. The Bucs paid Barron more than $10 million before getting rid of him."
Of course the problem is that when the Bucs hired head coach Lovie Smith (below), they switched to a cover-two scheme that doesn't call for a large investment in cornerbacks like Revis. Safety is one of the most important positions on the field. Goldson and Barron didn't fit the scheme because it calls for a special type of safety that can quickly read the situation and cover a lot of ground to get into the right spot.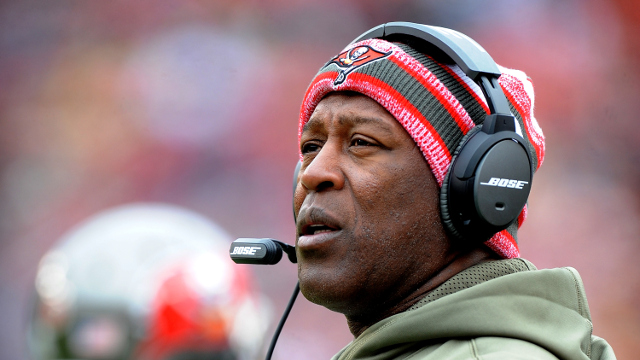 What's interesting is that the Bears are also in a position where they invested a large amount of money into players like Jared Allen and Willie Young – 4-3 ends that were meant to rush the passer with their hands in the dirt. They spent a third round pick on Will Sutton, a three technique tackle that arguably doesn't fit a 3-4 scheme either.
But there are two factors that make the Bears situation different. First, the Bears will spend up to 60% of their time in sub-packages which call for a four man line. Though frequently mentioned, this factor is largely underplayed in the media. A guy like Allen could come in handy rushing out of such a formation in passing situations if he bounces back from a miserable season last year. All of their signings over the last couple years could play in these packages and be of great value there.
That leads to the second point – the scheme is more versatile and can use players with different talents to advantage. Not only can the scheme accommodate, to an extent, linemen who can penetrate rather than strictly playing two gaps. That may leave room for guys like Sutton if they can adapt. And lets not forget the advantage of letting last years signee Lamarr Houston (below) roll back to the position of outside linebacker which he should be far more comfortable in than the role of 4-3 defensive end that the bears slotted him into last year.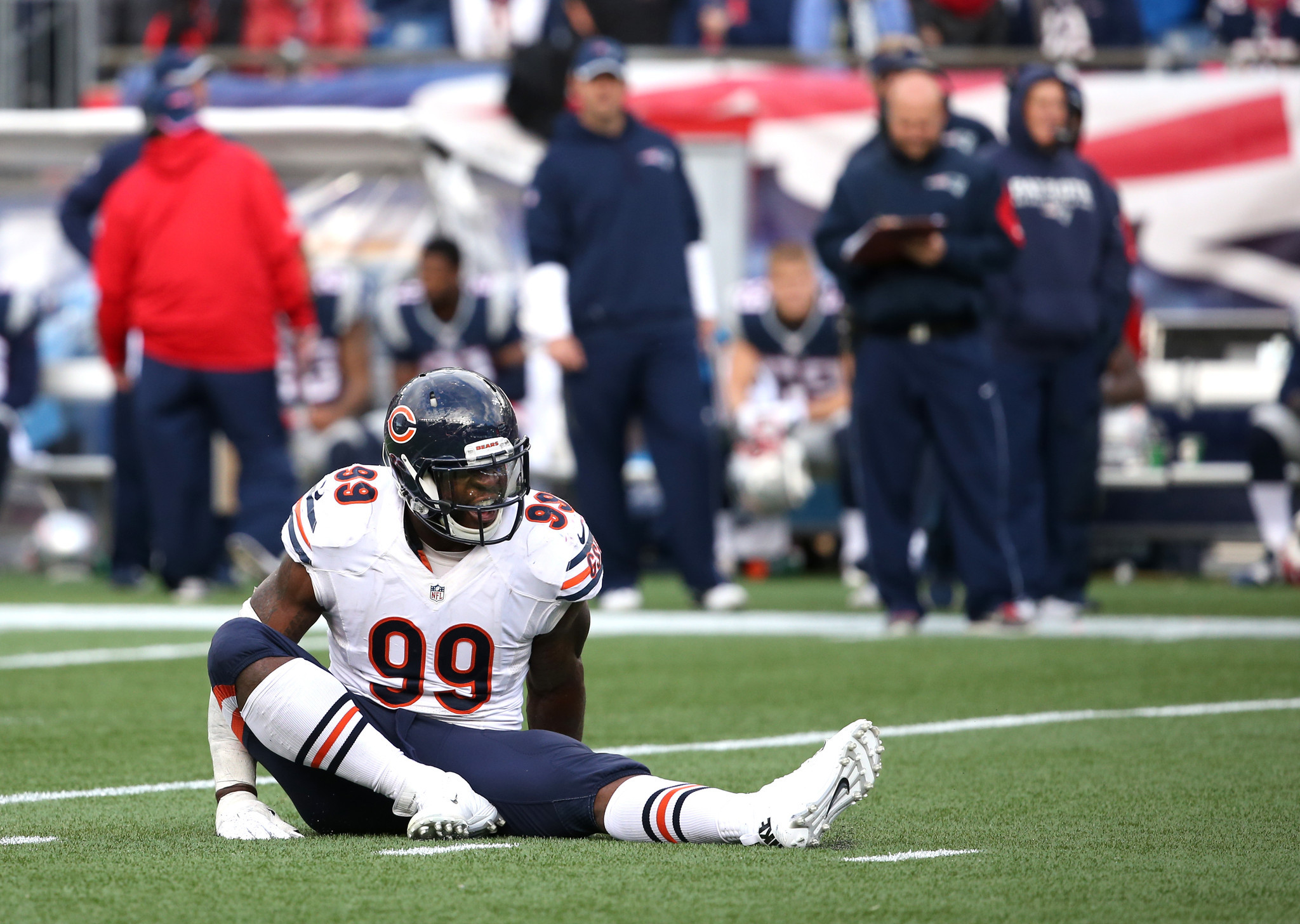 Both the problem and the advantage of having a defensive coach like Smith is that they stubbornly insist that it be their way or the highway on defense. That keeps things simple but it costs both time and money as players who don't fit are replaced.
Smith got a year's head start over Bears general manager Ryan Pace and head coach John Fox. And though the record was the worst in the league I thought they were surprisingly competitive last year in most of the games I saw. But you still have to wonder if the Bears won't rebuild faster and be better off in the end by being more flexible.
The race is on. It will be fascinating to see which philosophy wins.