Michael David Smith at profootballtalk.com is surprisingly definitive after highlighting former 49er Jeff Garcia's comments on the current state of the team:
"Garcia said the decision of [owner Jed] York and [general manager Trent] Baalke to fire Harbaugh reminds him of his own playing days, when York's father and then-General Manager Terry Donahue decided to fire Steve Mariucci after a 10-6 season. That turned out to be a disaster, as the 49ers wouldn't have a winning record for the next eight years — until they hired [Jim] Harbaugh."
I can only agree.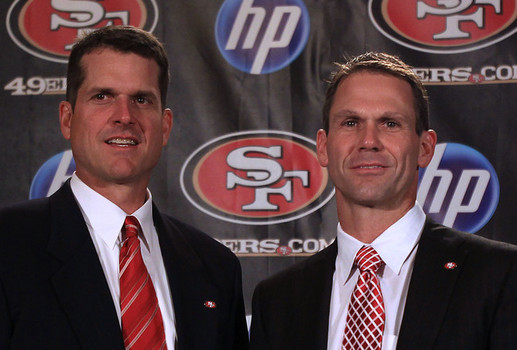 The capacity of team management to make a mess of a good thing all over the league amazes me. In this case, pride and control were undoubtedly the major factors. Harbaugh (left) and Baalke (right) are both the kind of men that simply refuse to compromise. It ruined their relationship and is well on its way to ruining the team.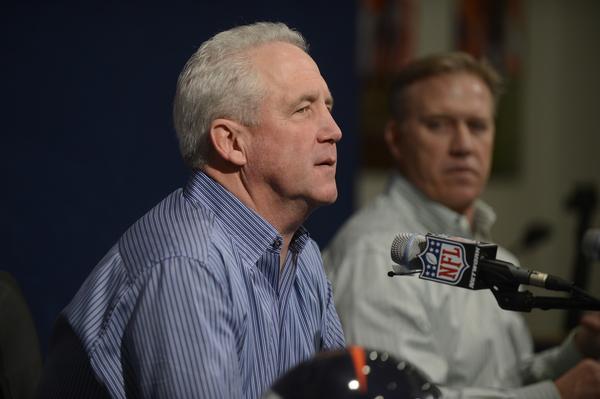 Though the differences were likely more fundamental you have to wonder whether former Broncos and now Bears head coach John Fox (left) and Broncos General Manager and Executive Vice President of Football Operations John Elway (right) didn't do the same thing. The guess is that Fox wanted to return to his roots – a run oriented defensive team, while Elway wanted to remain the high-flying passing team that the Broncos became through 2/3 of last season until quarterback Peyton Manning got hurt. The parting was amicable but the effect may be the same – I think it's unlikely that new head coach Gary Kubiac will be as good at it as Fox was nor do I believe that the loss of offensive coordinator Adam Gase will be without effect. Add in the loss of defensive coordinator Jack Del Rio to the Raiders as head coach and you've got the recipe for a serious decline.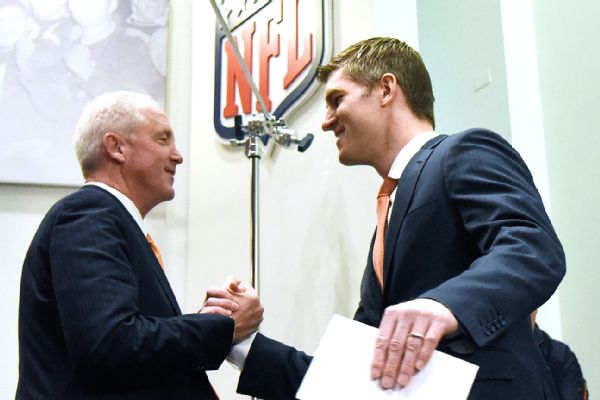 The relationship between Fox and Bears general manager Ryan Pace (left) seems to be off to a good start. Philosophically they seem to share the same vision. That might what Elway and Fox started with but Fox likely subordinated his vision to Elway with the acquisition of Manning.  Baalke and Harbaugh probably got off to a good start, too.
Those who ignore history are destined to repeat it. The key to prosperity will be that both Fox and Pace be reasonable people (unlike Baalke and Harbaugh) who are both very good at what they do. That will engender respect and that will lead to continued willingness to compromise without loss of quality. They also need to stay in agreement philosophically through seasons of change. A dose of early success wouldn't hurt.
That all seems like a lot to navigate over a course full of obstacles. But if the Pace and Fox do it, they'll be set up for the kind of long-term success that has eluded some wonderful relationships that started so well and then went south to the ruin of all.