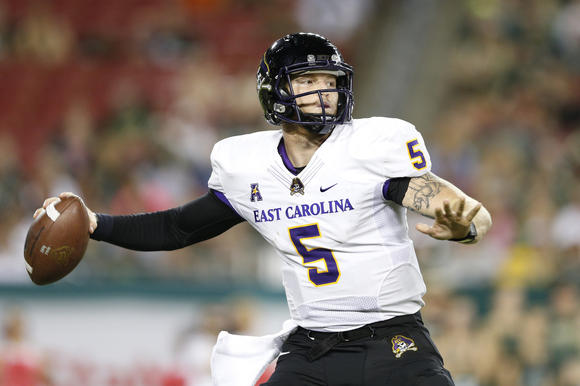 East Carolina's Shane Carden (above) is a puzzle to me. I get the impression talking to many fans that they like Carden because they think he's an underdog – a small guy who could make the kind of story that can be a source of inspiration to the average guy. Former Bears director of scouting Greg Gabriel practically slots him into that category as he summarizes Carden's chances in the NFL:
"Overall, I see Carden as a very good college player who lacks the top traits needed to be a starter at the NFL level. He is smart, instinctive, and a leader. He just lacks the necessary physical traits. He can become a very good backup who will win some games if needed. If he becomes a starter, he will be a guy you are looking to replace. He is a good third day selection."
Fair enough. But there's a problem when you look at the details of Gabriel's evaluation:
"Slightly undersized" at just under 6-2, 218.
Average athlete with average speed. Plays faster on tape.
Agile with quick feet.
Excellent production in college.
Some wind up but above average arm strength.
Smart, good instincts, good decision maker.
Top notch intangibles. Leader, top worker.
So what's not to like? A 5 second 40 time? Good grief, since when do you have to be Michael Vick to throw from the pocket? And 6-2 doesn't exactly make him Doug Flute.
Curious, I took a look at the video of the East Carolina – North Carolina game below.
This is a great tape to look at. Carden was under good pressure from the North Carolina defense. He wasn't perfect, as you can see. But there's a lot of good here. His arm is plenty strong enough and he throws a pretty deep ball.
Generally speaking, Carden didn't panic under pressure. As Gabriel implies, he actually is a pretty good decision maker. He scans the field and frequently throws to his second or third receiver in a progression.  Even an interception early in the game was a ball thrown to an open man.  This is crucially important, as highlighted by the comments of former 49er coach Bill Walsh:
"The ability to read defenses is not something that players have learned to a high degree coming out of college. Even if they have, the pro defenses are very different. But most systems require quarterbacks to look at primary and secondary receivers, usually based on the defense that confronts him. You can see if he locates that secondary receiver — or maybe even an emergency outlet receiver — with ease or with a sense of urgency.

"This should work like a natural progression, not a situation where it's — "Oh, my gosh, now I must look over here … no, over there." You can see which quarterbacks handle these situations with grace. These are the types who have a chance to perform with consistency in the NFL."
I think I see that here.
He was often reasonably accurate on some tough throws under pressure. There weren't many anticipation throws but North Carolina defense covered the East Carolina receivers well and often forced Carden to throw into NFL-type, tight coverage – which he did reasonably well.
Carden feels the rush pretty well most of the time. Perhaps most impressive to me, he also moves well in the pocket to avoid it while keeping his eyes downfield.
On the downside, he does have a windup and his release isn't as quick as I'd like. But the ball comes out reasonably quickly all things considered. He must have shortened his release quite a bit before the combine where I didn't even notice it. He also occasionally stares down receivers.
The current quarterback class has been much maligned after some showings at the Senior Bowl that reportedly weren't good. But I'm starting to think that there are some underrated jewels in this draft. Looking beyond more highly rated prospects like Bryce Petty and Brett Hundley, I see a lot to like in Carden and Colorado State's Garrett Grayson.  I haven't even gotten around to looking at Sean Mannion yet.  Rich Campbell at the Chicago Tribune sees the Bears' quest for a quarterback as "almost the impossible dream".  But the Bears might be in better shape to take a good quarterback in this draft than anyone knows.