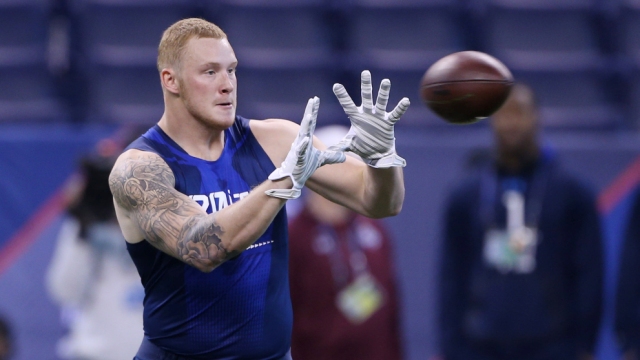 Tom Carpenter at ESPN highlights one of the more interesting things to look for inthe upcoming draft: where Minnesota tight end Maxx Williams (above) will go. Anyone who watched the combine knows that the tight end class is pretty grim and Williams is generally considered to be the best of them.
"Why is Williams' draft stock slipping?

"Like most young tight ends — he is just 20 years old — he struggles at times with his blocking and route running."
"Williams also reportedly came off a bit immature and self-centered during NFL combine interviews, as he struggled to give good answers to some difficult questions."
The Arizona Cardinals, Baltimore Ravens and New Orleans Saints are all picking late in round 1 and may be tempted to take a chance on Williams.  The Bears cold also use a second tight end opposite Martellus Bennett.
There is an alternative. In the mock draft that I'm participating in the Atlanta Falcons representative took wide receiver Devin Funchess as a tight end instead of taking Williams. Funchess is 6-4 1/2, 232 lb and if he can learn to block, he could be tough to stop as a receiving tight end. Teams needing pass blocking tight ends might even resort to converting offensive tackles or linebackers.  It will be interesting to see if that's what teams decide to do instead of taking a risk on the borderline tight end prospects that are available up and down the draft.