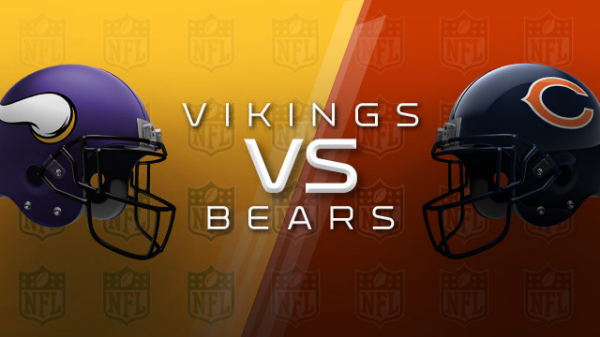 Defense
Kyle Fuller was given the assignment of covering Vikings break out wide receiver Stephon Diggs for a good part of this game though Tracy Porter did have him on occasion. Both did a reasonable job all in all. Diggs finally beat Sherrick McManis for a long touchdown in the fourth quarter. I'm not sure how the Vikings managed to manipulate the match ups but Diggs ended up with 96 yards on 6 receptions, much of that in the fourth quarter when neither Fuller nor Porter were covering him.
Undrafted Bryce Callahan was the nickel back instead of Sherrick McManis, who has been burned too often lately. He did OK.
The Bears had a hard time getting pressure on Bridgewater against a porous Viking offensive line with their for man rush. They did have some success on occasion with the blitz.
Significantly, the Bears, though obviously keying on Vikings RB Adrian Peterson, weren't stacking the box to stop him. It looked to me like they were getting mauled at the line of scrimmage in the running game and Peterson had a good game at 103 yards on 20 carries. Some good linebacker play and some timely blitzing did help cover a lot of problems on the defensive line. When you look at the score, you can't really fault them. They did something right.
For most of two quarters the Bears couldn't sniff out a screen pass on third down for the life of them. They finally seemed to get the picture about half way through the second quarter.
Vikings QB Teddy Bridgewater wasn't holding the ball too long as often this week as he did last week against the Lions. He was generally getting rid of the ball quick and relying on Adrian Peterson to run against a Bears defense that refuses to stack the box against him. Like his opposite on the Bears sideline, he could have been more consistent. there were a lot of miscommunications between Bridgewater and the receivers.
Offense
The Bears came out in a double tight end set. Despite that, they weren't running much out of it to begin the game. Apparently they thought their tight ends were a mismatch for Matt Forte and their tight ends in the passing game. They probably thought they could set up the run later.
The offensive line was patchwork this week but despite that I wouldn't say they had a horrible game. Patrick Omameh started at right guard, and Vladimir Ducasse could moved to the left guard spot. Charles Leno gave up a sack and they had a hard time pulling and getting out in front of outside runs but overall it was OK.
Despite the fact that it doesn't ever work that well, the Bears love that wildcat formation with Matt Forte.
As color man Ronde Barber repeatedly pointed out the Vikings really tacklie well.
This was a miserable Bears offensive game for most of the first two quarters. The Bears were afraid to be aggressive with their play calling, probably due to limits to their personnel. I understand being conservative and sticking with the short passing game but that has to be more than wide receiver screens that aren't working. Cutler finally got off a long pass to Martellus Bennett late in the second quarter and the offense broke out a little bit.
I might also point out that though the wide receiver screens weren't working, the regular screens to the running back that they started throwing in the third quarter were working. This was a nice adjustment.
Wonderful catch for a touchdown in the corner of the end zone by Alshon Jeffery. Jeffery had a very good game. For some reason the Vikings apparently weren't giving him a lot of special attention. He was really their only reliable receiver.
It was interesting to see Martellus Bennett line up to block for Matt Forte in the backfield in the third quarter. That might be a good role for him to play on occasion.
I would say that generally this was a typical 2015 Jay Cutler game. Some good movement in the pocket. Some good throws. Some head shakers. All-in-all another decent outing.
Miscellaneous
Chris Myers is a professional and Ronde Barber is OK but sometimes I think Barber is just the master of the obvious. Not a lot of great insight there and I never feel like I'm learning much. Holly Sonders is fine but I miss Jen Hale
Marc Mariani dropped the first two punts of the game. Robbie Gould hit a 55 yard field goal to open the scoring for the game. Gould missed a field goal in the third quarter that they really could have used. The Viking punt return in the first quarter for a touchdown by Marcus Sherels was the result of some terrible punt return coverage.
This officiating crew called more penalties in the first seven weeks than any other group. Despite that I wouldn't call the number of penalties in this game excessive. Patrick Omameh had a holding call. Sam Acho had a late, helmet-to-helmet on Bridgewater.
There weren't a lot of drops in this game but Jeremy Langford had a terrible one in the fourth quarter on what should have been a first down to keep a potential game winning drive alive.
The Bears defensive backfield finally broke out with an important interception by Kyle Fuller. It was a nice play by Fuller on what was a poor decision from Viking QB Teddy Bridgewater.
Players were slipping all over the field despite that fact that the field was supposedly in better shape than usual for this time of year. Apparently the turf was loose. The slipping around continued into the second half indicating that either better cleats couldn't help of the Bears failed to adjust and change shoes at the half.
Those new KFC commercials with the new "Cornel Sanders" are hilarious.
This was the kind of ball control football game that defensive head coaches like Mike Zimmer and John Fox dream about. Zimmer tried to use Adrian Peterson to wear down a Bears defense that flat out refused to do anything special to stop the him. On the other side the Bears, in particular, did a good job of executing and holding the ball, especially in the second half, allowing the defense to rest and keeping Peterson off the field. That they managed to do it with patchwork offensive and defensive lines and almost no talent on the defensive side of the ball is a miracle. Despite the loss, if you are a Bears fan, you have to like a lot of what you saw today.