Brad Biggs at the Chicago Tribune highlights the situation that 2014 sixth round draft pick, back up quarterback David Fales finds himself in:
"Forget about discovering the next Tom Brady, a former sixth-round pick — the odds are heavily stacked against locating even a quality backup late in the draft. [Former Bears general manager Phil] Emery said he viewed Fales as competition to be a future backup.

"'Everybody talks,' Fales said. 'I don't care. I appreciated Phil's interest in me and everything, but what he thought my ceiling was doesn't matter. I know where I am. I know I can play and I just keep getting better.'"
It's worth noting that one reason Emery probably set the bar for Fales so low is that he was afraid of upsetting starter Jay Cutler with the idea that he might be drafting competition for him. He was probably also trying to stop fans and media from creating unwarranted pressure on Fales to perform right away.
No one drafts anyone with any pick anywhere with the idea that he'll never be more than a back up. Some guys have a better chance than others to start and the higher draft picks certainly have higher floors. But I've got to believe that any GM worth his salt is always shooting to find a playmaker with every pick. Emery was no different.
The situation with Fales is similar to a lot of guys who are selected in his position. He has flaws that he needs to overcome. But that doesn't mean that he can't, especially at quarterback. Accuracy and intangibles are far, far more important to the position than athleticism. These can make up for a lot of physical limitations as long as those limitations aren't severe. At about 6'2″ Fales is only slightly undersized. He's is thought to be extremely intelligent, he had good pocket presence in college and he's extremely accurate. He led the nation with a 72% completion percentage his first year at San Jose State. That will have to be the factor that compensates for a lack of arm strength as he struggles to throw the ball deep. It's obvious that the Bears thought that he could do that or they wouldn't have drafted him.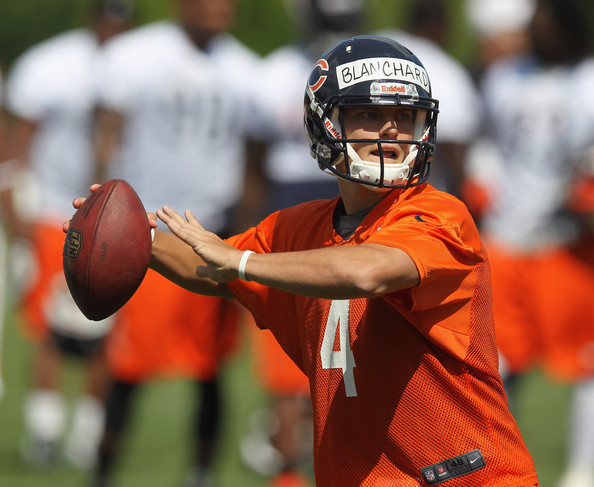 It's worth noting that practice squad quarterback Matt Blanchard, an undrafted free agent out of Wisconsin-Whitewater, is in a similar position. Indeed, Blanchard has most of the strengths that Fales has but with more size (6'3″) and athleticism and a better arm. He impressed Green Bay quarterback guru, head coach Mike McCarthy, a great deal in camp this year. Via John Mullin at csnchicago.com:
"[Blanchard] moved Green Bay coach Mike McCarthy to issue more than just platitudes as the Packers and Blanchard went through their final minicamp of the offseason.

"'I'll just tell you what I told him when I met him in April,' McCarthy said via Tyler Dunne's blog up at the Journal-Sentinel.

"'I said, 'Why the hell don't you have a job?' Just after watching his workout and watching film of his time at Carolina. I just think there's a lot there to work with, as far as his physical talent. The young man's a winner, and he's in a good place. He's getting better. He's getting better each and every week.'"
As Bears fans look toward the offseason and wonder what the team is going to do about the quarterback position, it's important to note that the quarterback of the future could well be on the team already. True, these aren't men that you sign and count on to become quality starting quarterbacks in the NFL. But it would be a mistake to count them out.