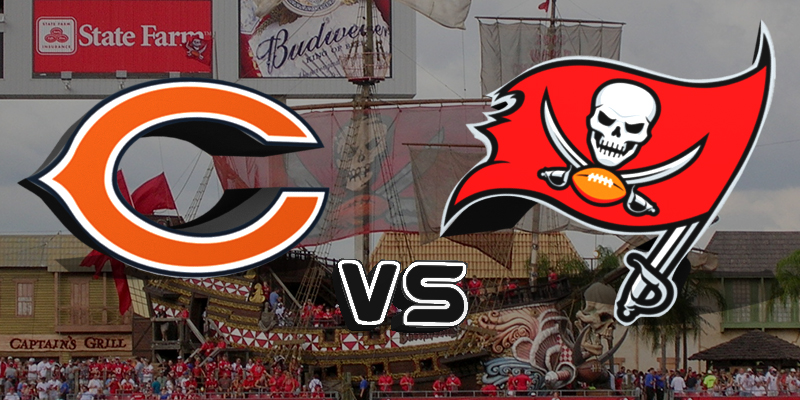 Offense
Tampa Bay played a familiar Lovie Smith-style bend but don't break defense but the blitzed more than is usual, presumably to put pressure on the somewhat weak Bears offensive line. It was reasonably effective.
The Bears responded by trying to be patient and limit mistakes in a ball control, run first offensive game plan.
The Bears game took a while to get going, as usual. The Bears have scored only 41 points in the 1st quarter this year.
The offense got going better after the first quarter. The Bucs helped them along to their first touchdown with a timely facemask penalty followed by a pass interference. They also executed better and played cleaner.
The Bears were double teaming Gerald McCoy whenever they could with Vlad Ducasse and Kyle Long. This was particularly evident in short yardage where they ran right over the spot where they double team was. It seems that the Bucs may have been blitzing so often in an effort to prevent this double team by occupying both Ducasse and Long. This led directly to a sack given up by Ducasse isolated on McCoy in the second quarter in the red zone.
The Bears offensive line had a very hard time protecting Cutler against that blitz. Tampa Bay only had one sack but Cutler was constantly under pressure.
The Bears also had some success running to the right with Matt Slauson pulling to that side. This was a good plan against a Tampa Bay defensive line that always works to penetrate and get up field first.
Tampa Bay did a good job on the Bears screen plays. Teams are preparing well for this now.
Matt Forte (11 carries for 54 yards) ran very well today. This great vision was more evident than usual as he cut back and picked out holes. Jeremy Langford didn't do badly (19 carries for 93 yards) but he looked like he still has some things to learn from Forte in comparison today.
The Bears struggled a bit on third down (6 of 15) as the Bucs came through with some big plays. They also settled for field goals in the red zone when they needed touchdowns, again.
Ka'Deem Carey scores not only a a good, hard run but actually catches a pass for the second touchdown. Who saw that coming? Probably not the Bucs.
Zack Miller (7 catches for 64 yards) had a sneaky good game and led the Bears in receiving.
Jay Cutler didn't have to do that much but came through when he had to and statistically (20 of 27 for 156 yards, passer rating 100.2) he was excellent.
Defense
Tampa Bay obviously is a run first team and they do it effectively with Doug Martin. The Bears countered with a lot of nickel defense but with eight in the box. This gets an extra defensive back on to the field to prevent those easy throws to running backs and tight ends that have been burning the linebackers so badly lately. That's a good, smart adjustment that paid off.
The Bears only rushed three in some obvious passing situations, probably in an effort to make Jameis Winston force a stupid throw. Winston did a reasonably good job of not doing that, trying to run out of trouble instead. He's not dumb, that's for sure. Having said that, he threw an interception under pressure from Christian Jones on the blitz in the third quarter in the red zone that was pretty bone-headed. So they still have to pound some of that out of him.
The Bears didn't appear to me to be blitzing much and they weren't getting much pressure on Winston. This was a major advantage for Tampa Bay as they threw deep a number of times to burn the Bears after Winston was given forever to throw. Never was the need to acquire a pass rusher in the offseason more evident for the Bears.
Harold Jones-Quartey had a good game and made a case for himself as a future Bear. He had a big hit that caused a fumble in the second quarter and stood out occasionally in coverage. His interception in the third quarter with the Bucs driving in the red zone was huge.
Doug Martin (17 carries for 49 yards) had a mediocre first half. He come out after half time and ran very hard as the Bucaneers came out even more determined to run. They ran five straight times until Charles Sims caught a touchdown pass. The Bears responded by keying on the run with renewed attention and did a good job of stopping them.
I'm not sure what the reason for it was but an awful lot of Buccaneers were getting open deep in the second half. Every time you looked up there was a wide receiver running free with a Bears defensive back trailing about three yards behind. That needs to stop. Fortunately Winston also has what appears to me to be a bad habit of under-throwing receivers deep. The Buccaneers would have blown this game wide open in the second half had he connected on more of those throws.
The defense did a good job on third down, allowing just two conversions out of eight tries.
Miscellaneous
Sam Rosen, Matt Millen, Peter Peter Schrager did a reasonably good job. Millen has a bad habit of being wrong and then having to correct himself but he also does a good job of going back to break down plays and show them exactly why they worked. He's a surprisingly good teacher. I like him.
A blocked Bears punt by Jeremiah George led to a Doug Martin touchdown. It looked like LaRoy Reynolds may have failed to block George. Robbie Gould had a good game, connecting on three field goals. His problems a few weeks ago seem to be over.
Neither team committed that many penalties but some of them were very poorly timed, especially by the Buccaneers.  A false start by Kyle Long turned a third and goal from the four to a third and goal from the nine. A holding penalty by Vlad Ducasse late in the fourth quarter killed a first down. They settled for a field goal. On the Buccaneers side, a big facemask penalty brought back a William Gholston interception. A facemask followed by a pass interference penalty set up the Bears touchdown in the second quarter.
Eddie Royal dropped a touchdown. Mike Evans returned the favor by dropping one in the fourth quarter.
Turnovers were huge here, of course, as the Bears won that battle 3-0. The Bears got a fumble caused by a hit by Harold Jones-Quartey. It was recovered by John Timu. Timu recovered another big fumble in the third quarter at the Bucs 22 yard line. Jon Anderson appeared to make the big hit. Harold Jones-Quartey came up with a big interception in the red zone in the third quarter.
You hate to see injuries, especially to guys like Hroniss Grasu and Eddie Goldman, so late in the season. Grasu eventually returned. Here's hoping the Goldman injury is similarly minor. Jarvis Jenkins, who has had a reasonably good season, left the game early and would also be missed. The defensive line wasn't a strength to begin with.
It's debatable but I thought the Buccaneers were the more talented team, today. But turnovers and a few key mistakes burned them badly and the Bears played cleanly enough to take advantage. That doesn't sound exciting but its darned important. When the Bears aren't committing penalties and shooting themselves in the foot, they can win games they shouldn't be in. Today was a prime example of that.