Arthur Arkush at chicagofootball.com takes a look at the Bears remaining needs on defense. Here's what he said about the defensive line:
"The Bears apparently have big plans for Jeremiah Ratliff, one of two holdovers singled out by John Fox as a building block – even with Ratliff turning 34 before the season begins. Chicago didn't seem overly interested in free agent DT Terrance Knighton, who signed a modest one-year pact after starting 32 consecutive games for Fox. Perhaps new brass thinks Ratliff and last year's young tackle influx give Chicago enough youth and diversity at nose guard, but Vic Fangio still helping to hand pick an interior plugger in the draft can't be discounted.

"Conversely, the premise the Bears would head into 2015 without addressing five-technique can be discounted instantly. Fox and Ryan Pace's non-answer last week when asked about the position is telling – with no clear options on the roster, the Bears must identify some big-bodied ends in the draft to beef up a shorthanded defensive line originally constructed for a one-gap system."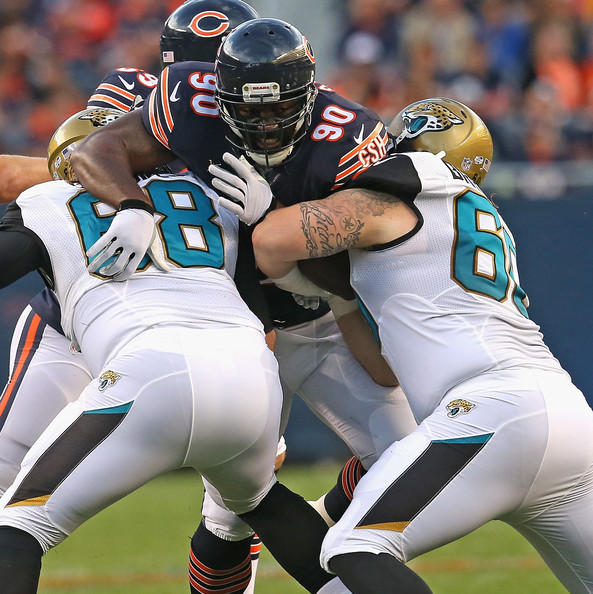 The fact that Ratliff (above) started at nose tackle in a type of 3-4 where smaller defensive linemen are expected to stunt more than hold the middle against double teams continues to be ignored here.  Ian Rapoport quotes Wade Phillips for NFL.com on how this scheme differs from the normal 3-4:
"First of all we play a different 3-4 than everybody else or most other people, although several of them play it the same one we do now because those guys have coached with me.  When I started out it was a two-gap defense, the defensive ends had to play two-gap and be able to rush the passer. Well that's a hard thing to do."

"We had a guy here with the Houston Oilers named Elvin Bethea.  We said, 'Wait a minute. We don't want to do that with that guy.' We started stunting the guys and moving them and let them do what they do well, playing a 3-4, but playing a different way, Phillips 3-4 if you want to call it that. I had another guy named Bruce Smith that wasn't bad at in a 3-4 [Note: Yeah, he was OK]. You can do it with guys, if they have the abilities, then you let them go more. If they don't then you play a two-gap and just hold your ground all you can and let the linebackers make the plays. It's all about what kind of players you have and let them do what they do best."
If the Bears decide to run that system, Ratliff will fit in nicely but if they run the more classic 3-4 which requires two-gap pluggers then Ratliff is going to be under-sized and they're going to need to find someone other than Ego Ferguson to depend upon at the position. Ratliff would more likely fit in as a 3-4 end in that scheme.
And, as Arkush points out, that leads to what might be the Bears biggest problem – where to find the ends for this defense. Both Lamarr Houston and Pernell McPhee have done it in spots but its unlikely that the Bears will depend upon them as full time 3-4 ends regardless of the scheme. Will Sutton is also a possibility for the Phillips scheme at defensive end but even that is not a good fit for him.
The Bears are OK on the defensive line in sub-packages where they'll likely still run a four man line for which they stock piled players last year. Players that under-performed, its true, but good fits nevertheless. But their number one need is still defensive linemen that have to play the other 40-50% of the time.
How the Bears remake this position is going to be one of the most interesting aspects of the remaining offseason. But slotting anyone in anywhere on that line is an exercise in futility until we find out what sort of base 3-4 scheme the Bears have in mind.