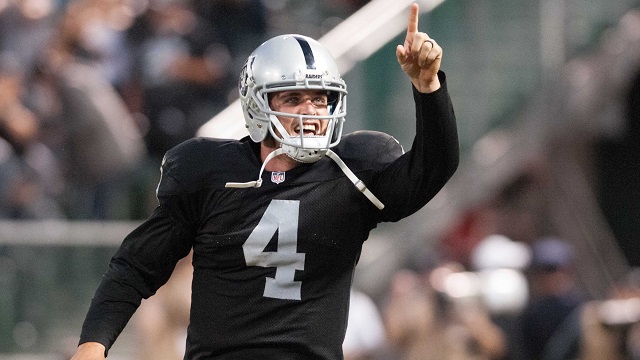 John McTigue at ESPN Stats and Information thinks that Oakland should give up on quarterback Derek Carr and draft Marcus Mariota:
"On the surface Carr's rookie campaign compares favorably to other recent seasons by rookie QBs. He threw fewer interceptions (12) and completed a higher percentage of passes (58.1 percent) than Andrew Luck did (18, 54.1 percent) and he was the ninth rookie since the merger to throw at least 20 touchdown passes (21).

"A deeper dive into Carr's numbers suggest his 2014 season left a lot to be desired, however. Carr finished the season with a 38.4 Total QBR, which ranked 28th out of 33 qualified quarterbacks. His QBR didn't rank favorably among other recent rookies, either. Of the 27 rookies to qualify since 2006 — as far back as Total QBR data goes — Carr's QBR ranks 15th, sandwiched between EJ Manuel (38.4) and Geno Smith (35.9).

"Carr's QBR suffered because of minimal gains made on his passes. He averaged a mere 5.46 yards per attempt last season, which was not only worst in the NFL last season, it was one of the worst all time."
This seems to me to be a prime example of why stats are for losers. Can you name one wide receiver on the Oakland roster from last year? How about a tight end? Neither could I. A review of the list of receivers that Carr was dealing to at the end of the year includes such stars as Mychal Rivera and James Jones. Carr's yards per attempt were so low because running backs routinely led the team in receptions.
I'll tell you what. If the Raiders wat to take an unknown quantity like Mariota and then trade Carr and a second round pick to the Bears for their first round pick, I'm totally game. Bears fans may not have a good idea of what a quarterback looks like but we certainly know what one doesn't. I think we'd take Carr in a second.