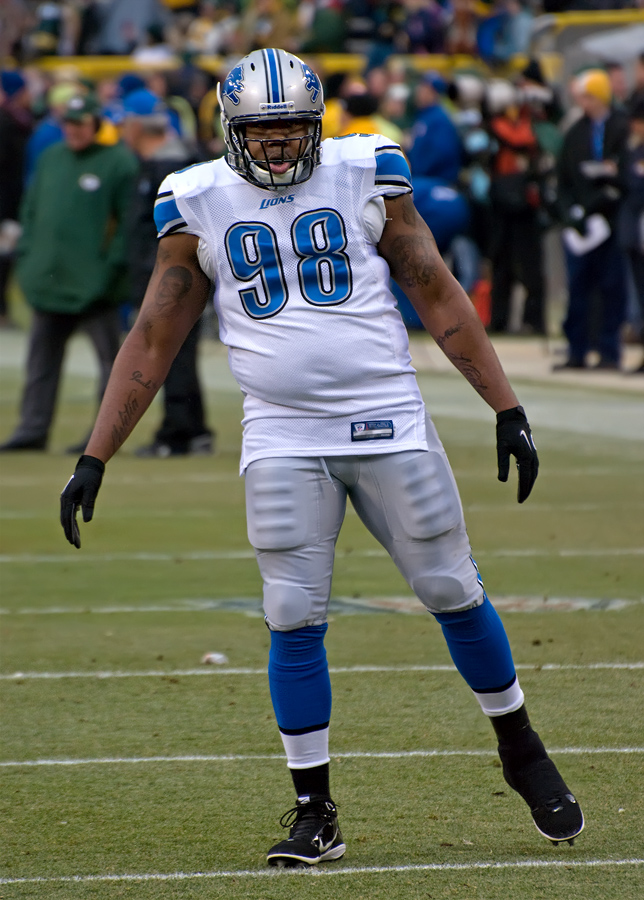 The Bears aren't the only ones who have blown a lot of draft picks recently. In fact, its amazing that the Lions have had the recent success that they have, given their dismal record. Josh Katzenstein at the Detroit News notes that with the departures of both Ndamukong Suh and Nick Fairley (above), they have no draft picks left on the roster from either the 2010 or 2011 draft classes. I've maintained in recent years that off field concerns are overrated, noting that players like Ben Roethlisberger rarely miss too many games after notorious off field incidents. I may have to reconsider that stance given the state of the particularly dismal Lions 2011 class:
"'I think '11 wasn't a good draft for us. I didn't do a good job in '11,' Mayhew said. 'I think I was overly aggressive. I learned a lot from that, and our drafts have improved since then.

"Mayhew declined to explain what he meant about being overly aggressive."
"Four of the five picks all had off-field problems early in their careers — Fairley, [Mikel] Leshoure and [Johnny] Culbreath were arrested on marijuana-related charges — as well as dedication issues. Fairley's commitment issues are well documented, particularly with his consistent weight problem.

"[Titus] Young thought he was better than Calvin Johnson and became moody when he didn't play. Leshoure was late or inattentive in meetings and showed no signs of improvement during his time in Detroit."
Michael David Smith at profootballtalk.com points out that the next three players taken after Fairley were Robert Quinn, Mike Pouncey and Ryan Kerrigan. All made Pro Bowls. Young is now facing prison after a string of arrests.
This all points to one fact – Suh was such a hit that he was likely a good part of the reason why the team was winning despite the fact that general manager Martin Mayhew otherwise totally botched two straight drafts. The other reason – Johnson – is still with the team but you have to wonder if the Lions aren't going to take a serious fall down to the level of where the Bears were last year in the division.