Most Bears fans will be looking for the team to draft a potential starting quarterback next year, potentially with a pretty high draft pick. Recent discussions amongst friends left me in the mood to seek out and give some preliminary evaluation on a couple of good quarterback prospects. We'll start with Connor Cook (below).  This particular evaluation is based upon his game against Central Michigan only so take it with a grain of salt.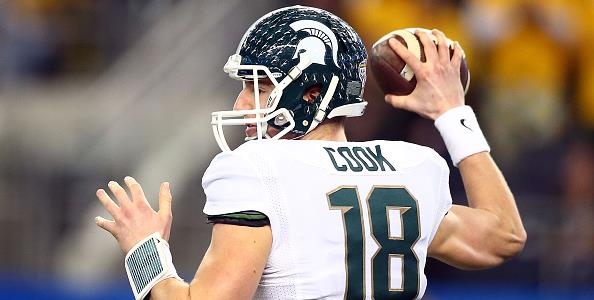 Connor Cook
Connor Cook is currently rated the second best quarterback in the 2016 NFL draft class and the ninth best prospect overall by cbssports.com. He's got good size at 6 ft 4 in, 220 lb.
Though it's not exactly a pro style offense, Cook's Michigan State team does at least huddle up and Cook does call plays. Most of the passing down snaps are taken from the shotgun but he does occasionally get under center, usually in running situations. Given that Michigan St. felt that they could run on their opponent Saturday, Central Michigan, that mean he was under center a lot. His footwork was fine and he's definitely a pocket passer.
Cook has a reasonably quick release and he's got at least average to above average professional grade arm strength. His ball placement isn't a strength and his accuracy left a lot to be desired in this game. He missed some open throws over 12 yards or so. Nevertheless he can and did hit receivers on the run. Not surprisingly, he's particularly prone to be inaccurate under pressure.
Other than that it was hard to evaluate how Cook handled the pass rush just because the Michigan State offensive line is so good that he rarely saw pressure. When he did, he stood well in the pocket and does step up. Otherwise he didn't move around much within the pocket. His mechanics definitely seemed to break down when the pocket got muddy. Further evaluation will have to wait until the second ranked Spartans play a better team.
Finally, Cook isn't being asked to throw with anticipation much but he did hit tight end Josiah Price for a touchdown midway through the second quarter right as he came out of his break which offers some hope in this area.
Its only one game but based upon what I saw on Saturday, I wouldn't rate Cook as no more than a late second round prospect. He's got some physical tools and a nice, quick release but his accuracy and his movement in the pocket left me kind of cold on him. Nevertheless it will be worth keeping a closer eye on him as the year goes by.