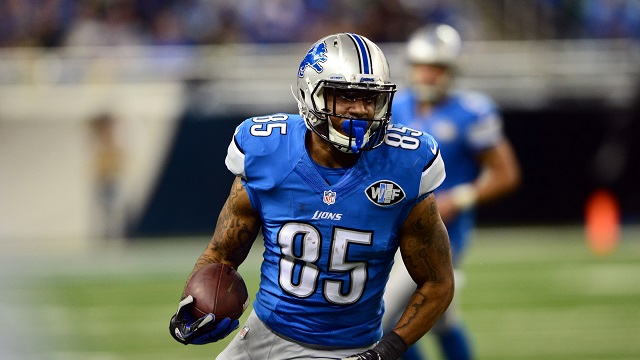 Dave Birkett at the Detroit Free Press comments upon the improvement of tight end Eric Ebron this year:
"Ebron has been a revelation in the Lions' offense through two games, leading the team with two touchdowns and ranking third behind Calvin Johnson and Golden Tate with nine catches for 96 yards."
"'(He's) improved,' Lions coach Jim Caldwell said. 'The last two weeks, he's caught the ball pretty well and made some plays for us. So I think he's — his arrow of improvement is heading in the right direction.'"
Ebron is looking to improve the numbers he put up in last year's disappointing rookie season — 25 catches for 248 yards.  He's well on his way to doing that and his emergence is just one reason why the Lions offense should be better than last year's version.
The Lions are 0-2 and a lot of people are jumping ship on them after a very encouraging preseason. But I'm not. The Lions have four big weapons on offense in Ebron, Johnson, Tate and Ameer Abdullah. The Lion defense certainly misses Ndamukong Suh and they've under-performed without him.  But they've been without linebacker DeAndrey Levy, who is doubtful again this week but his return will eventually give that defense a boost..
The Lions lost to the Vikings last week but the game was in Minnesota. I don't think that they should be counted out yet and I can't get past the feeling that they are going to make some noise in the NFC North before it's all over.