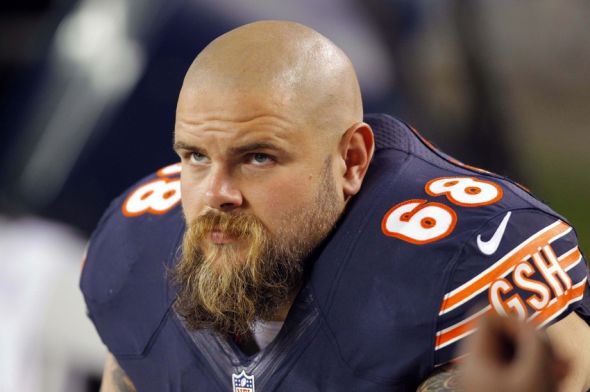 Brad Biggs at the Chicago Tribune on left guard Matt Slauson taking over at center after Will Montgomery was injured Sunday:
"Former general manager Phil Emery said Slauson was a potential candidate to replace Garza in the future but his experience at center was limited to just a few occasions with his former team the New York Jets.

"'A couple of quarters here and there with the Jets but that was a dire emergency type of deal where if I was ever called upon to come in it was a deal where, 'All right, Slauson is in. We're not going 'gun the rest of the game,'' Slauson said. 'Just because it is hard to get those reps when you are starting at one position and backing up at another. You don't have the time to work on the other. I just have to do mental reps at center throughout the week.'"
Indeed, Slauson said after the game that he only got three or four reps in training camp at the position. This was poor planning on the part of the coaching staff. It could be that the initial plan was to keep Hroniss Grasu active on game day as the first guard or center off the bench. But if that's true, once it became clear that he's not big enough to play either position (yet) they should have given Slauson and quarterback Jay Cutler more snaps in the event that they would need a center and Grasu wasn't active.
It will be interesting to see what the Bears do at the position this Sunday. Grasu says that he's gained about 10 pounds since he joined the Bears, putting him just over 300. That will undoubtedly help. But he still may not have the knowledge to make the proper line calls, in which case Slauson will remain at center and, presumably, Patrick Omameh at left guard. Assuming that's the case, will they decide to make Grasu active as the first interior lineman off the bench or will they sign someone else to come in? Which it is will tell us a lot about what the staff currently thinks of Gasu.