Brad Biggs at the Chicago Tribune describes the action just after half time yesterday after the Bears began with a successful onsides kick:
"The Bears took over on their own 47-yard line with a chance to score and make it a field goal game. Three plays later, veteran defensive end Brian Robison swiped Kyle Long's hands and sacked Jay Cutler to force a fumble, the second straight game a defender has come from Cutler's right to force a turnover.

"'It was a huge play for us,' Robison said. 'You definitely want to try and change the momentum back.'

"With good field position, the Vikings scored quickly as Stefon Diggs came across the middle and wasn't accounted for in coverage (how many times have we seen that in the past month?) for a 33-yard touchdown. What could have become a 3-point game was a 24-7 game. "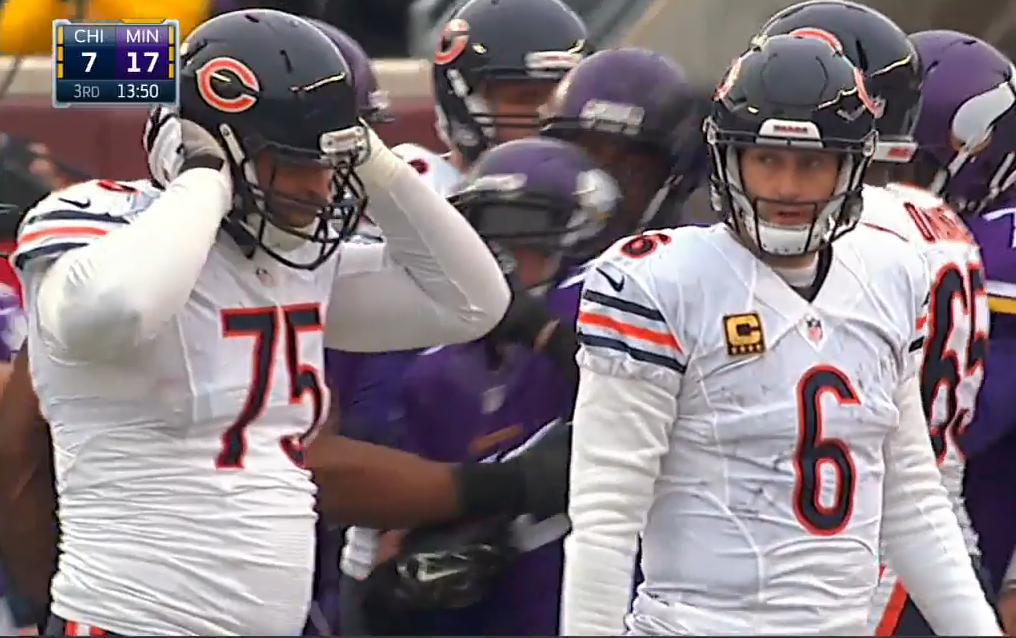 The look that Cutler gave Long after this play (above) pretty much said it all. There's a certain amount of frustration building over Long's play for a number of reasons.
A quick look at the Bears roster shows me these offensive linemen:
Vladimir Ducasse, G
Patrick Omameh, G
Matt Slauson, G
Nick Becton, T
Jermon Bushrod, T
Tayo Fabuluje, T
Charles Leno, T
Kyle Long, T
Hroniss Grasu, C
At tackle the Bears have the experienced Bushrod, who could be back to being a starter-quality left tackle as his back heals up. They also have Leno, who is developing into a quality left tackle and may take Bushrod's place. In that case, Bushrod could play either side. And finally there's Fabuluje, who has wonderful athleticism and quick feet that might make him valuable on either side (probably the right) with a year of development.
Taken together with Long, the Bears have a glut of good tackles. Long's absence at guard, on the other hand, has made that situation problematic. Slauson is solid on the left but Omameh misses too assignments and allows too many sacks. Ducasse, whose habit of committing penalties made the overall team problem with this even worse, wasn't even good enough to hold off Omameh in competition for the right spot. Neither option is really good enough to be a back up much less a starter.
I'm willing to be patient with Long and let him have this year and the offseason to develop. I'm willing to take the coaches' word and that of most of the members of the media that he's got the talent to play the tackle position. If the Bears were short at tackle, I probably wouldn't even be questioning the decision to put him there. But its tough to watch the Bears struggle at guard when they've got a more tackles than they know what to do with.
Given all of the above, you'd hate to think the Bears turned a Pro Bowl guard into an average to below average tackle. I wouldn't like to see them yanking Long around without giving him one position to work at. But I'm continuing to wonder if leaving him at right guard at the beginning of the season wasn't the best thing to do long-term. And I'm starting to wonder if moving him back wouldn't be best for everyone.