Bears
"Something positive

"DT Tommie Harris looked creaky at times and was asked to handle only about 15 snaps a game. Given his hefty contract, it's no surprise that the Bears released him after the season. But Harris can still play. He can still get uncommonly deep penetration with his initial quick step off the ball. As long as he's not asked to move laterally, he can produce. Any 4-3 team needing a situational interior pass-rusher should take note."
CBS Sports' Rob Rang has updated his Big Board.  Some names of note for Bear fans:
16. Mike Pouncey, OG, Florida: Size, strength and the athleticism to block at the next level, Pouncey's ability to stand out against SEC competition makes him an easy first-round pick.

20. Tyron Smith, OT, Southern California: In terms of pure talent, Smith is this year's best tackle — but his experience lies on the right side, his future lies on the left and scouts have questioned his maturity. He'll impress when he works out at USC's pro day March 30.

21. Gabe Carimi, OT, Wisconsin: A road grader with enough size, reach for pass protection, Carimi would be best off moving to right tackle.

22. Corey Liuget, DT, Illinois: Overshadowed a bit by ex-teammates Mikel Leshoure and Martez Wilson at Illinois, Liuget will wind up the earliest-drafted and best NFL player of the trio.

23. Danny Watkins, OG, Baylor: Don't let his marginal tests at the combine or the fact that he's 26 distract from the fact that Watkins is the toughest, nastiest interior lineman in this class. He might not make the first round, but he'll one day be viewed as a steal.

24. Derek Sherrod, OT, Mississippi State: I'm admittedly higher on Sherrod than most, but see him as an ideal swing tackle capable of stepping in immediately and well worth a first-round pick.

25. Phil Taylor, DT, Baylor: A top-20 talent athletically, but will have to answer questions about his suspension and transfer from Penn State to get drafted there.
Mikel Leshoure was 35.
The Bears are on the clock with the ESPN crew:
Elsewhere
"Myth Buster

"Jared Allen is a dominant pass rusher

"In 2010 at least, this wasn't true. Allen was not much of a factor early in the season–– even though he faced frequent one-on-one blocking. He came to life down the stretch … once he faced inferior competition. This isn't to say Allen is not an elite defensive end. But his struggles last season only give more ammunition to detractors who point out that a majority of his sacks in '09 came against the feeble Packers and Bears offensive lines."
"Myth Buster

"Jahvid Best is a superstar in the making

"The '10 first-round rookie running back has superstar features (speed, lateral agility, terrific acceleration and soft hands). But he had a tendency to abandon his blocking last season, which led to too many potential three-and four-yard gains ending in gains of zero or lost yardage. Experience and playing behind a more consistent offensive line should help."
Williamson also does another entry in his weekly "Pressure Point" series which looks at a player who must improve in 2011.  This week its Marshawn Lynch and Williamson doesn't pull any punches:
"Lynch is more effective as an every-down runner and, at his best, he can wear down a defense. But he just doesn't do a good enough job of creating on his own when the blocking is sub-par. He becomes a lateral runner instead of a bulldozer. He too often gets what is blocked and nothing more."

"With all the team needs Seattle has, I would not use a lot of resources on the running back position right now…  But if Lynch doesn't step up his game in 2011, I would look for a back one year from now."
According to the New York Post, Jenn Sterger is suing her former manager to get back materials related to the Brett Favre sexting scandal.  He may intend to use those items in a tell-all book.  I had a feeling that Sterger would have dropped this without a fuss if it weren't for bad advice she was getting from the start of it.  I'd say this supports the idea.
NBC 2 Fort Myers in Florida reports that Oakland Raiders offensive tackle Mario Henderson was arrested on a weapons charge Thursday morning (via BenMaller.com).  At 6'7″, 300 lb Henderson is so large that he couldn't fit into the back of the police car.  He was offered the option of lying down in the back or walking four blocks to the station.  He decided to lie down.
Commissioner Roger Goodell needs to start staying awake in that tanning bed.  Via Deadspin: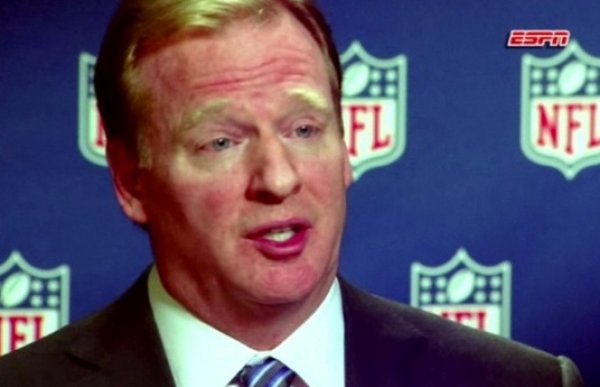 One Final Thought
Jay Cutler's true, soft nature revealed:
However, lets not make the mistake of believing this means he's not tough.