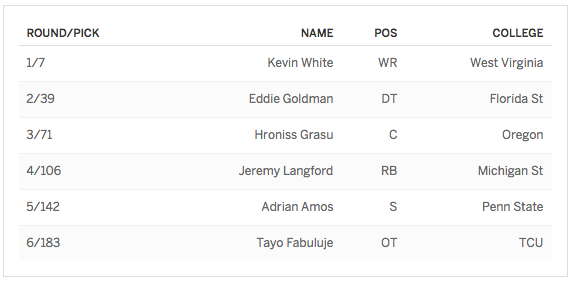 Mel Kiper at ESPN regrades the 2015 draft. Not surprisingly, the Bears came out pretty well.
"Post-draft grade: B-plus

"Give the Bears' front office a lot of credit, because it was a bad break to lose Kevin White for an entire season. They still managed to get some important building blocks out of this class, and they did it while winning more games than the year before. Progress was made, and the draft helped. Eddie Goldman was a good value in Round 2, and Jeremy Langford could take over for Matt Forte if the Bears and Forte part ways. A true steal was Adrian Amos in Round 5. I know I'm supposed to have a soft spot for him since we went to the same high school, but I certainly didn't pump up his value for that reason and was actually surprised at how well he played. I'd keep the grade the same for now, and it goes up or down based on what White delivers.

"New grade: B-plus"
Though I'm not sure Amos holds onto that starting safety spot as the Bears upgrade their talent and the Bears didn't draft a quarterback of the future, if White turns out to be a good receiver and Hronis Grasu turns into a good starter, this draft gets a solid 'A'. Every pick from top to bottom either contributed in 2015 or showed the potential to contribute in the near future. You can't expect any better than that.