I am not, by my nature, a positive person, at least when it comes to football. I don't look at the world through navy and orange glasses. I don't poke out my eyes and shutdown my brain to blind myself to and defend the team despite obvious problems because doing so is the only way to be a "real fan".
And I absolutely, positively, under no circumstances, get excited about performances in the preseason.
But I admit it. I am happy today.
Despite the circumstances, I was impressed by I saw from Bears rookie quarterback Mitch Trubisky last night. The guy looked like he belonged and that means so far so good for a team that is desperate to see Trubisky or Mike Glennon, somebody, anybody, succeed as a franchise quarterback.
Yes, it was the preseason. Yes, the team under Trubisky was playing against Denver's second and third stringers and, even if it was the first stringers, all-world defensive end Von Miller sat out. And, yes, the defenses were more vanilla than what the the Bears will see once the real bullets start flying.
But I was impressed anyway. I was impressed because Truibsky did so many things that were really good regardless of the level of competition:
Trubisky is every bit as accurate as advertised. He was leading receivers and he generally put it in the right spot. For example, he should have had a third touchdown. He did just what he needed to do by throwing the ball low and away where only the receiver, tight end Daniel Brown, could get it, Brown dropped the ball despite the fact that it still hit him in the hands.
Bears offensive coordinator Dowell Loggains put Trubisky on the move where he was still quite accurate. He rolled Trubisky out quite a bit and it allowed Trubisky to avoid pressure that both Glennon and Mark Sanchez were susceptible to. There were one or two really good throws despite the presence of guys who basically came free on the rush to get right in Trubisky's face.
Trubisky was completely unflustered despite of a lot of blitzing and movement from the defense, especially on the late TD drive in the first half. This was in contrast to what we'd read in camp reports where Trubisky was fumbling snaps after losing concentration in the presence of pre-snap movement. In this respect, Glennon was the one that looked like the rookie as he was noticeably nervous whenever anyone made a move at the second level of the defense.
Trubisky showed good pocket presence and movement to avoid the rush. This might be the most important thing an NFL quarterback needs to be able to do – step up against pressure into a throwing lane to deliver a ball. I'm guessing it doesn't usually come easily to spread quarterbacks who had 13 college starts. Trubisky didn't have to do it often but when he did he looked like a pro.
All of these are things very good professional quarterbacks can do independent of the level of competition.
I can't blame Glennon for the look on his face immediately after Trubisky's first touch down to basically end the first half.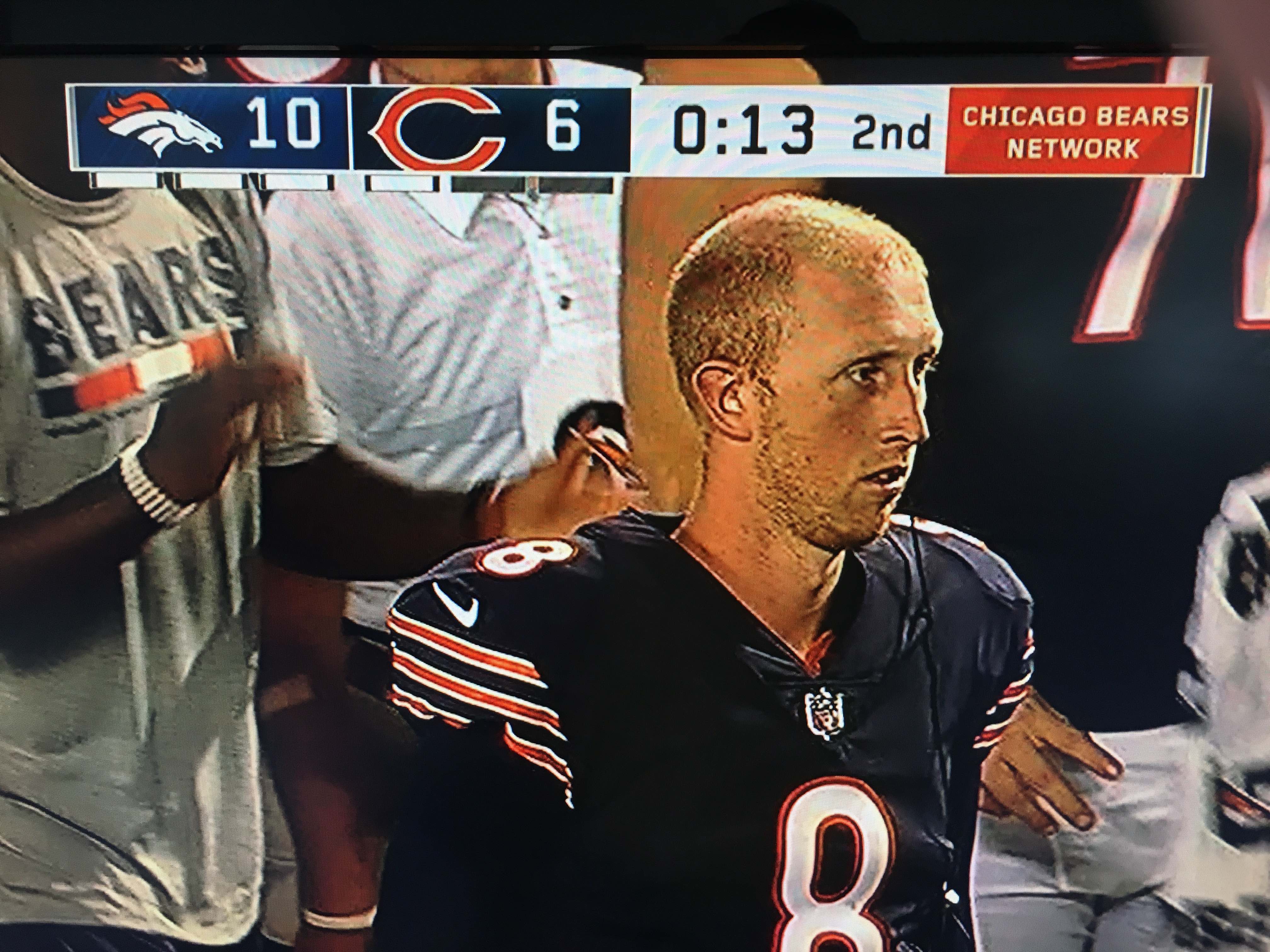 I'm sure he was anticipating what the media reports in Chicago would be like this week. I would warn Bears fans to not get too high or too low after one preseason game.
But, for once, I'm even having to remind myself of this basic rule. Because, against my nature and my better judgement, I'm very encouraged by what I saw from Mitch Trubisky.