Michael C. Wright at ESPN answers your questions:
@mikecwright #Bearsmailbag with the Bears changing to a 3-4 D, whats the deal with Jared Allen, Willie Young and Lamar Houston? Thanks.

— FabianD (@FabianD_inAZ_54) March 19, 2015
"@mikecwright: Thanks for the question. The way it looks right now, there's definitely going to be a logjam at outside linebacker because the plan is to play Jared Allen, Willie Young, Lamarr Houston and Pernell McPhee at outside linebacker. Both head coach John Fox and general manager Ryan Pace have said as much recently. I'd encourage you to take a step back, take a big-picture perspective and match up that with what you know about new defensive coordinator Vic Fangio. Fangio is a creative schemer, and if all those guys stick on the roster (which I anticipate happening), he'll find a way to incorporate all of them. The Bears plan to play base defense out of a three-man front. But when the team goes into substitution packages, which will likely be more than 50 percent of the time, it will probably execute out of four-man fronts designed to get the team's best four pass-rushers on the field at the same time. We don't yet know which players Fangio plans to deploy in those positions because he doesn't know, and won't know until the team gets out on the field for practice. Fox said that once the guys start working out, they'll define their roles through their play."
I'd like to emphasize Wright's second point in this response – the fact that the Bears will likely play a four man line in substitution packages. As Wright points out, you could reasonably expect the Bears to play in these packages up to 60% of the time. If the Bears play what's being called the "Big Nickel" package where the fifth defensive back is a safety instead of a corner, it could be more than that. Such a defense allows for better pass coverage than the conventional 3-4 alignment with four linebackers while doing a better job of hedging against the run.  The Rams have been particularly effective playing this formation and it's possible that they will actually make this their base defense at some point.  The Giants are aligned in a 4-2-5 version of this package, similar to what the Bears could play, below: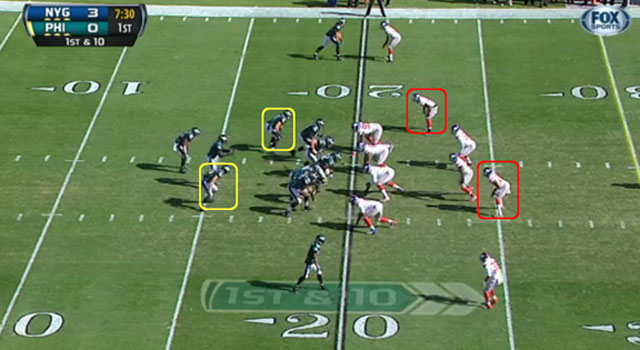 The Bears don't have the safety depth to play the "big nickel" right now.  They don't even have the cornerback depth to play the conventional nickel at this point. At this point anything is possible.  It's worth noting that Bears defensive coordinator Vic Fangio liked to use the big nickel with Jimmy Ward as the third safety.  Some will remember that Bears safety Brock Vereen played in a similar type of role in college.  Though at 5-11, 199 he's a bit small to do it in the NFL at this point, its not impossible that the Bears could use him in such a scheme, especially if he bulked up.  Indeed, this may have been what former Bears general manager Phil Emery, a former strength and conditioning coach, had in mind when he drafted Vereen.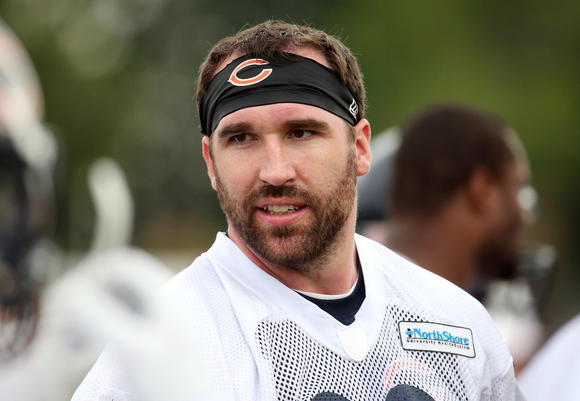 In any case,big of conventional nickel, its important to remember that Allen (above)  and Young have a major role to play in this defense even if they don't work out as outside linebackers. Whether you change the scheme to 3-4 or not, pass rush from a four man line is going to be a major part of the defense. In that respect its important that Allen, in particular, shows better in 2015 after an off year last season. He won't like standing on the sideline for half of the snaps but he'll be 33 at the beginning of next season and it could be the best thing for him. He's a high motor player and I think getting that kind of rest could only make him better.