Former NFL scout Daniel Jeremiah, now writing for nfl.com, created quite a stir nationally when he predicted that the Bears would take Marcus Mariota with the seventh pick in his latest mock draft:
"The Bears have a new general manager and a new coach. Oftentimes, that means a new quarterback is on the way. It's time to rebuild in Chicago."
This led to the following question for Hub Arkush at chicagofootball.com:
"From @skafkis: Is Mariota on Bears radar?

"I'd be lying if I told you I knew exactly what Ryan Pace is thinking right now, and they did send Dowell Loggains, the new quarterbacks coach, out to Oregon for Mariota's Pro Day. But I have not found a single scout, coach or general manager who is absolutely sold on Mariota, and the majority of them have real doubts.

"He is a great kid who may or may not have the leadership gene that Jay Cutler has lacked, but many are concerned he doesn't.

"He has yet to prove he can stand under center, take a snap, drop three or five steps and turn and read the field. And on the rare occasions when he has stood in the pocket and tried to find receivers more than 12-to-14 yards down the field, he's been mediocre at the very best."

"I suspect the Bears know all that and wouldn't risk the seventh overall pick that way. If they were to trade down and Mariota takes an Aaron Rodgers or Brady Quinn tumble, perhaps you go at 22 or 23, but that's awfully unlikely."
I completely agree with Hub. I know that this is a time of year when everyone pretty much starts lying about prospects in an effort to manipulate the draft board of other teams. But based upon what I've seen, I think these concerns are completely legitimate. Mariota didn't play in a pro style offense and hasn't shown that he can throw from the pocket, particularly with anticipation to a reciever. From what I've seen of him, he looks like an introvert. It's possible that once he gets comfortable with a team and gets to know the players, his leadership qualities will come out but that kind of thing takes time.
As former NFL safety Matt Bowen points out at the Bleacher Report, it's all about the  potential, development and time:
"[F]or scouts setting their final grades, it all still comes back to projecting Mariota's talent at the NFL level. They have to consider how long it might take him to adjust to pro coaching and how much risk there is that he can't make that adjustment."
The Bears might be comfortable with Mariota at number seven but I wouldn't be. In fact, absent a trade up scenario I have some doubt that Mariota will go before the Rams at 10 and he might even fall to the Saints at 13 or even beyond. As Hub says, he's highly unlikely to get low enough for the Bears to trade back up into the first round to get him, though.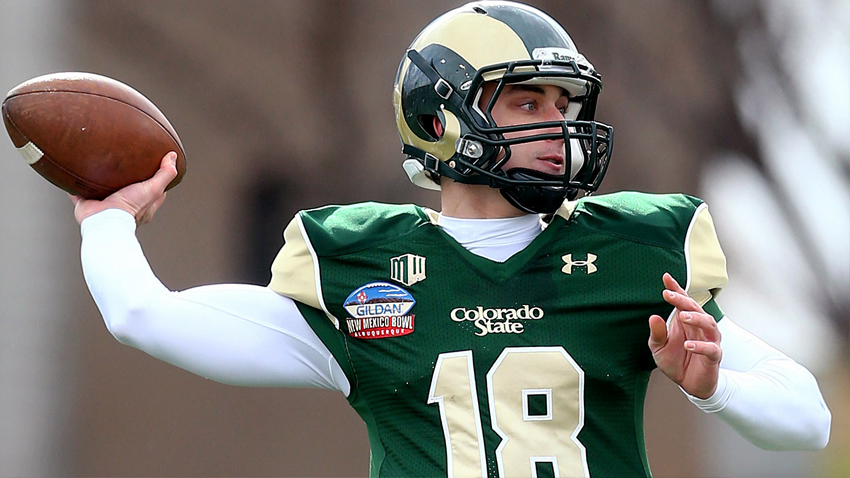 Personally, I'm starting to warm to Garrett Grayson (above). Grayson is a bit of a stiff but notice how he slides in the pocket, something I think is very difficult to teach, in the video below:
This is a good video to watch because Grayson is under a lot of pressure from a Utah team that was a lot better than Grayson's Colorado Sate.  Though he takes the majority of the snaps from the shotgun, Grayson played in a pro style system. Former NFL coach Jon Gruden recognizes the advantage this gives Grayson:
"There's a lot of parts of Colorado State's system that I recognize, unlike a lot of college football that's running up-tempo, no-huddle, spread-option football.  There's some principles at Colorado State that will serve Grayson well…He's a dark horse in this (quarterback) class."
Notice how he throws with anticipation to his receivers and how he hangs in the pocket under pressure and keeps his eyes down field. He's also reasonably accurate and throws a pretty good deep ball.  Jeremiah has hi as his third quarterback behind Jameis Winston and Mariota:
@Eric_Edholm he's got poise and sees the field. Can't say that about many of the other contestants for 3rd spot. Something to build on.

— Daniel Jeremiah (@MoveTheSticks) February 18, 2015
Grayson's intangibles are reportedly excellent.  But aren't they always.
On the negative side, you can see that his mechanics need work and his release is slow with a little bit of a wind up.  I'm also not sure how well he feels pressure. But all in all I like what I see. He's might be a second round pick and I'd say he should be no less than a third.
In any case, Jeremiah was right about one thing. There's little doubt in my mind that the Bears will be looking for a young quarterback to develop and I'm sure I'm not alone. Trusting the future of the franchise to Jay Cutler with no options behind him is fool hardy given his history. Keeping an eye on all of these prospects will be an intersting occupation leading up to the draft. I can guarantee that you haven't heard the last from me on the topic as I get a chance to look around at some of the other options.