Bears
Elsewhere
NFL analyst Rodney Harrison isn't a believer in the Jets. Via Dan Hanzus at nfl.com:


"'The Jets are, all of a sudden, on a high thinking they're going to win a championship,' Harrison said on NBC Sports Radio, per ESPN. 'You're not going to win a championship, you're not even going to make the playoffs, because you don't have a quarterback. If you go into the season and you're expecting Geno Smith to improve, it's not going to happen. He might get a little better, but when times get tough, when adversity hits, guess what he's going to do? He's going to fold just like the last couple years.'"

Sound familiar Bears fans?

Kevin Patra at nfl.com says that the punishment of the Atlanta Falcons for pumping crowd noise into the Georgia Dome has come down. The NFL fined the Falcons $350,000, took away their fifth-round selection in the 2016 NFL Draft, and suspended team president Rich McKay will also be suspended for at least three months from the Competition Committee beginning April 1.

I think the Falcons are being made an example, here. I'm virtually certain that they're nowhere near the only team in the NFL to do this. When the Rams were in the same division with the Saints the players talked about the noise being so loud on their bench in the Super Dome that they had to turn the speakers on the sideline around just to hear themselves talk.

Bucky Brooks at nfl.com has quarterback Marcus Mariota falling to the Chargers at 17. It's not impossible. But it's going to be tough for the Saints who are probably starting to plan for a future without Drew Brees, to pass on him at 13.

Mariota's a risky pick for most teams, though. He could easily fall pretty far. The other thing to consider is that's easy trade up range for the Eagles, who are sitting at 20. Mariota played under head coach Chip Kelly at Oregon and Kelly has called him the best player in the draft.

Mary Kay Cabot at cleveland.com thinks that the Browns will try to move up to take Mariota, as well. That sounds like exactly the kind of thing owner Jimmy Haslam might push for.
Matt Vensil at the Minneapolis Star-Tribune says that 6-9, 351 lb offensive tackle Babatunde Aiyegbusi, who signed with the Minnesota Vikings after flying over from Poland to try out is now experiencing the items commonly found in an American diet including tacos, pink lemonade, chicken wings and waffle fries. What's the over-under on his weight by the time training camp starts?
One Final Thought
I really don't care that a student trashed Cam Newton in his elementary school paper. But the comparison to former Chicago Tribune and current ESPN lazy blow hard Skip Bayless by profootballtalk.com's Darin Gantt is right on target:
"And actually, he's better than Bayless, because there's at least an intellectual honesty to the kid's claims."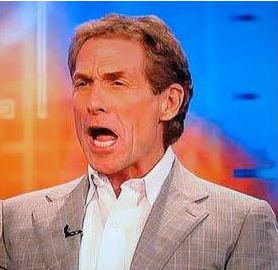 I think I'd get more out of it if I switched on the TV and found the 10 year old yelling at me.