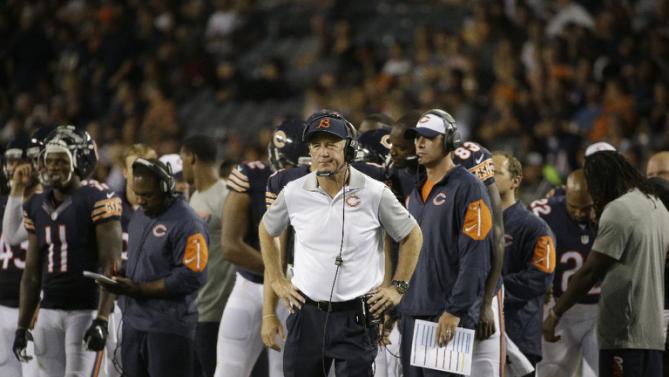 Adam Kilgore at The Washington Post writes a thought provoking article on head coaches make such apparently "stupefying" game-management decisions.
The bottom line is that Kilgore claims that the job is too big for one person. The typical NFL sideline is a mass of confusion where head coaches are forced to make time-sensitive decisions in a pressure-packed environment.
I'm on board with that. What I'm not on board with is one of his examples of poor game-management last weekend:
"Late in the fourth quarter, trailing by 15 against the Packers, the Bears scored a touchdown. [Head coach John] Fox made the same inane choice almost every coach makes. In a nine-point game, Fox elected to kick the extra point instead of going for two, making it an eight-point game.

"The decision stemmed from the backward process of favoring hope over practicality. The Bears choose to keep it a one-possession game, but at no benefit. It still needed a two-point conversion to tie. But now it had sacrificed the chance to know whether it would require only a touchdown or a touchdown and a field goal. The Bears surrendered the opportunity to know how aggressive it should play strictly for the sake of appearance."
That touchdown "late in the fourth quarter" was scored with 34 seconds left in the game. To suggest that this is enough time to score a touchdown and a field goal to me is, itself, "stupefying". The truth is that if Fox had chosen to go for a two point conversion and failed, the game would have been over. He chose to take the one point instead, thus keeping it a one score game and giving his team hope that they could still pull it out.
I neither heard nor read any criticism up until I read this article over Fox's decision. The best you could do is argue that this decision was a coin flip. But I'm inclined to support Fox on this one.