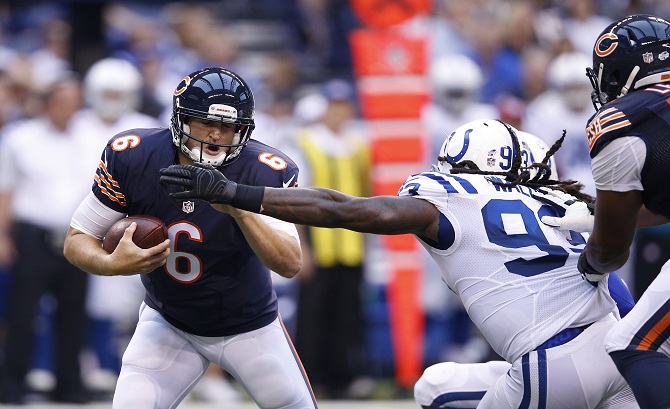 One positive from Sunday's game is highlighted by Brad Biggs at the Chicago Tribune points to offensive coordinator Adam Gase's use of the zone read with quarterback Jay Cutler as a positive from Sunday's game:
"'We did it the last two years with Peyton [Manning],' Gase said. 'Peyton didn't keep any. But that's been going on for a long time. That was different stuff (that what we ran with Tim Tebow in Denver). A lot of this stuff we do, everybody is doing it in the league right now. It's just kind of the decision making. If you watch Philly, even when (Mark) Sanchez was playing, he'd pull it and get 4 and slide. Jay just decided like he felt like dropping the shoulder. He does a good job and does a good job of making the right decisions.'"
I like this for a number of reasons. First it gives the defense another runner to worry about. Despite putting it on tape against the Green Bay Packers the week before, the Cardinals were clearly surprised when Cutler kept the ball and scrambled for a couple of good gains of 10 and 8 yards. Second it takes advantage of Cutler's underrated mobility and physical toughness. At a time when the offense lacks talent at wide receiver with Alshon Jeffery hurting, Gase is using every weapon in his arsenal to compensate. Cutler's willingness to run and take a hit when necessary (though they'd rather he slides) could be a big part of that.