Brad Biggs at the Chicago Tribune answers another question:
"Why didn't the Bears claim James Jones off waivers before the Packers grabbed him?… Seem[s] Jones was much better than what the Bears had on their roster. — Greg M., Hayward, Wis.

"Jones was a vested veteran when the New York Giants terminated his contract and that made him a free agent, eligible to sign with any team he wanted. I am guessing GM Jerry Reese and coach Tom Coughlin regret that decision right now. New York released wide receiver Preston Parker earlier this week after five drops in two games. But this was not a situation where the Bears could have placed a claim for Jones. Even if the Bears were interested in Jones, why would he sign with them when he could return to a team and offense he knows to play with arguably the best quarterback in the NFL in Aaron Rodgers?"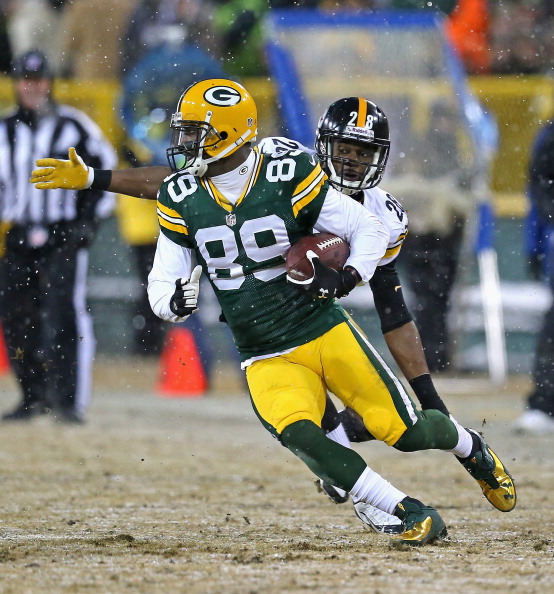 Exactly. And it worth asking one further question – "How good would Jones (left) be without Rogers?"
Two teams couldn't find room for Rogers on their roster – the Oakland Raiders and the New York Giants. Two quarterbacks, one an up and comer in Derek Carr and the other a veteran Super Bowl quarterback in Eli Manning, couldn't find a way to get Jones the ball. What hope would he have had with Bears quarterback Jay Cutler?
The guess here is that only Rogers could have possibly made Jones as good as he's been early in the season and its a graphic demonstration of how important he is to that team. How many of their receivers could succeed elsewhere? My guess is that the answer might be "not many". I haven't seen one yet who left in the Rogers era and made it anywhere else.