Dan Wiederer at the Chicago Tribune on quarterback Jay Cutler's performance Sunday:
"[C]an we take a quick intermission here for a PSA to remind our audience that Cutler's career arc did not experience a dramatic shift based on Sunday's final drive? Can you imagine how different the discussion would be this week had he and the offense not converted a fourth-and-5 from their own 25 with 1:30 to play to extend the game-winning drive?

"Yes, it's acceptable to credit Cutler for another fourth-quarter comeback victory. But only if you also acknowledge that Sunday's game probably should have become a routine Bears win had their quarterback simply added to a 19-17 lead earlier in the period rather than throwing a back-breaking interception.

"Cutler's toughness? Documented long ago. Cutler's error-prone tendencies in key moments? Documented long ago. Cutler's ability to bounce back? Documented long ago. So give him credit for Sunday's effort. It's deserved. Let's just slow down the parade proclaiming that the entire organization has now fully rallied behind him and will never look back."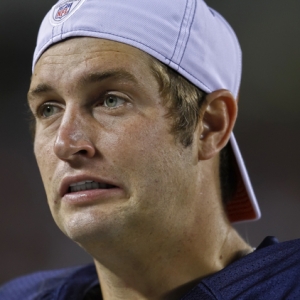 Amen.
Few people are more critical of Cutler than I am. So let me first say that I actually mean what I'm about to say – all credit to him for the game winning drive. I thought it was great and I'll say that not every QB could have done it. Jimmy Clausen probably doesn't move in the pocket like Cutler and probably doesn't win Sunday. Some of those throws threaded the needle. Honestly, I was thrilled.
But I think its necessary to point out that it was at home against a below average team that has been a tire fire in the defensive backfield for four games now. It appalls me to see people like Hub Arkush at chicagofootball.com give Cutler an "A-" for an effort that yielded a QB rating of 60 just as it disturbed me to see people heaping praise on him for an effort in week one against the Packers where that same rating was less than 30.
In any case, we've known for some time that Cutler can look good against teams like the Raiders under those conditions. The problem is that he saves his worst performances for when the team needs him most at his best – on the road against an very good teams in prime time.
Thanksgiving at Lambeau still looks like a very ugly match up to me. That's not entirely because of Jay Cutler but its going to remain an ugly match up as long as he is the Bears quarterback.