Brad Biggs at the Chicago Tribune answers your questions yet again:
"What is the latest on Kevin White? Any chance he is activated and plays? — @GreaseMaul from Twitter

"White was involved in practice on Wednesday but I'd say it remains unlikely he is activated. Coach John Fox was asked about how White practiced and he responded that the first-round draft pick was 'on target.' When asked what he was on target for, Fox replied, 'tomorrow's practice.' What's been forgotten by some people is White has been out since early June. I don't think a handful of practices over this week and next will be enough to get him ready to play this season. I believe he will first set foot on the field for the Bears in the 2016 season."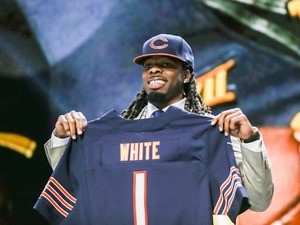 Reports have consistently claimed that White won't be playing this year. But its virtually impossible for them to know for sure without knowing exactly how much White is doing in practice and what he look slike while doing it. I would imagine that's virtually impossible to determine in the limited time that practices are open to the media, particularly since Fox is probably trying to hide White's true status.  Reporters are therefore likely getting most of their information from team sources that can't be completely trusted.
There is something to be said for the question of how much White could help even if the Bears let him back on the field. He was thought to be the least ready of the top wide receivers in the draft, having a great deal of talent but needing a lot of work on things like route running and reading defenses. However, the guess here is that White couldn't hurt. Even in his raw state, he's probably better than the likes of Marc Mariani and Marquess Wilson on the outside.
Bottom line, though I'm inclined to think based upon the reports that White won't play this year, I question the basis of those reports and I wouldn't be too surprised if they turned out to be wrong. If they are wrong, the Bears will be better for it.