One of the most interesting off season stories has been head coach Chip Kelly's of the Philadelphia Eagles. Kelly (below) has made a flurry of moves including trading star runningback LeSean McCoy for linebacker Kiko Alanso and quarterback Nick Foles for the oft injured Rams quarterback Sam Bradford.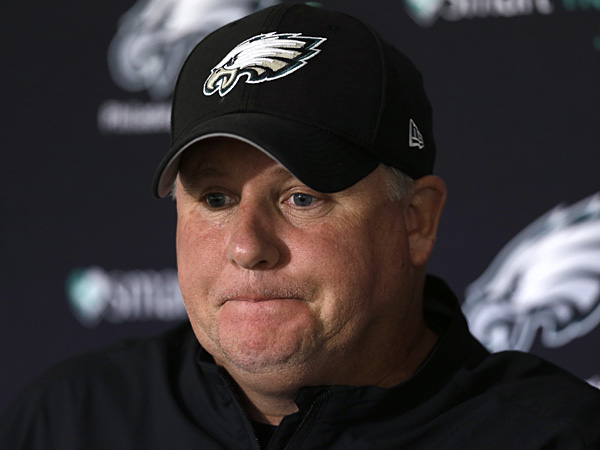 Many have questioned Kelly's moves with some justification. But Seahawks head coach Pete Carroll says that Eagles fans should place their trust in Kelly. Via csnphilly.com:
"'I think the people in Philadelphia should be very excited about the changes that are coming,' Carroll said this week at the owners meetings. 'Maybe they can't see it — the vision is not clear to them. Chip knows what he's doing. It's going to be interesting to see.'"
"'His record and his history has proven that he knows what he's doing and that he has his act together,'"
Kelly's style is an interesting contrast to what the Bears are apparently doing in their transformation to the 3-4. The Bears are looking for players with good traits. To some extent, that search will be nonspecific. If you are a difference maker, they'll adjust the scheme to use you.
Kelly is building his team more in the way that former Bears head coach Lovie Smith built his defense. Smith was a cover two discipline and looked for players with specific traits to play his scheme. Kelly is acting similarly, looking for players to fit his offense. McCoy, for instance, is a Pro Bowl runningback. But he danced around too much behind the line of scrimmage rather than hitting the hole hard and quickly the way that Kelly wanted him to. So he was traded and replaced by runningbacks DeMarco Murray and Ryan Matthews.
I'm going to be fascinated to see how things work out in Philedelphia. It's obvious that Kelly knows what he wants and I admire the guts that he's shown in going out to get it. He going to be the next Bill Belichick. Whether it's Belichick with the Patriots or Belichick with the Browns has yet to be determined.