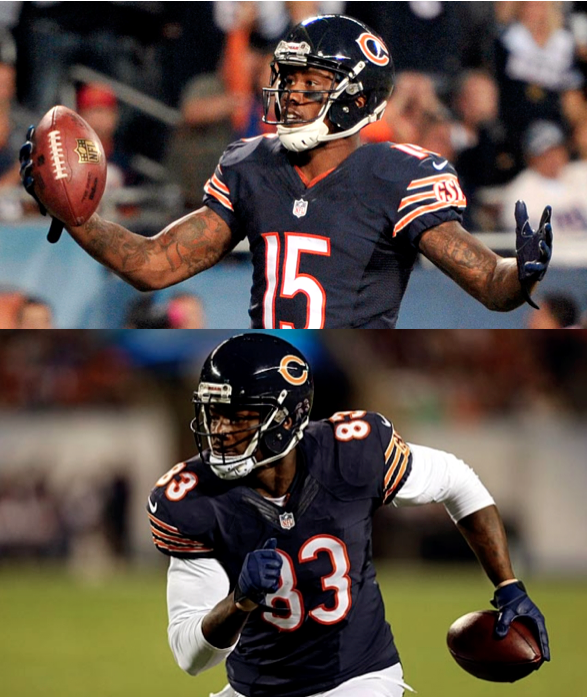 Mark Potash at the Chicago Sun-Times on the Bears rebuilding project:
"Nobody is more bullish than Pro Bowl tight end Martellus Bennett. The same guy who boycotted the Bears' offseason program — strength-and-conditioning and the voluntary organized-team-activity workouts — to try to get his contract renegotiated is 'all-in.' "
"'That's kind of like what it is right now. There's a lot of construction going on — a lot of guys trying to get where they need to be. I'm all-in. I really love what [head coach John] Fox and [general manager Ryan] Pace [are] doing. Everything Goose [offensive coordinator Adam Gase] is doing. And I'm excited about the future of the Chicago Bears."
Bennett might be all in on the Bears but are they all in on him?
When I read Bennett's statement above, the first thought that came to mind was, "That's exactly the kind of thing that former Bears wide receiver Brandon Marshall would have said." And, like Bennett, I'm convinced that Marshall would have meant it. But almost everyone agrees that Marshall was a bad locker room presence and he was moved to the New York Jets in the offseason.
I don't think that it's a coincidence that the Bears also were rumored to be trying to trade Bennett in the offseason. I'm guessing that they're not done trying. When Bennett threw cornerback and first round pick Kyle Fuller to the ground in training camp in 2014, the stories about who he is and how he acts started to come out. Bennett is extremely immature and has a serious problem with authority. That doesn't make him the same kind of disruptive force that Marshall was. But it's almost certainly not the kind of veteran influence the Bears want hanging around a young team.
Like Marshall was, Bennett is very productive and if the Bears eventually do trade him, they're going to miss him badly. But make no mistake about it. The Bears aren't just rebuilding on the field. They're building a culture around the team and the organization. Despite the fact that Bennett appears to be "all in", you have to wonder if he has a place in it.