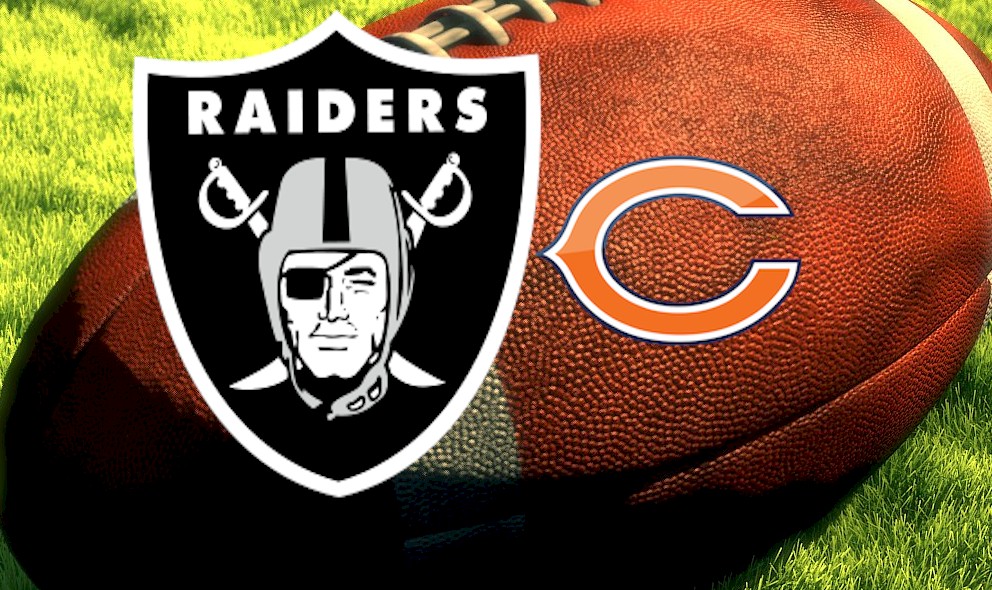 Offense
The Bears once again came out in a double tight end set, not hiding at all what they wanted to do. The difference this time? On second and seven they threw the ball with Jay Cutler back at quarterback against an Oakland defensive backfield that's been a tire fire this year. And they kept doing it.
Oakland was playing man under defense and for the most part the Bears attacked it with underneath passes to Martellus Bennett and Eddie Royal.
Jay Cutler had forever to throw the ball as he got very good protection in the first half. This was partly a function of some nice effort along the offensive line, some nice movement in the pocket by Cutler, and the fact that the Raiders came out very flat. The last thing on that list didn't last long as the Raiders got themselves in gear on the second Bears possession. Cutler's mobility continued to be the difference for much of the game.
Cutler was up and down. Sometimes he was reasonably accurate but he threw some duds that really had me shaking my head, especially in the second half. I certainly can't complain about the two minute drill that won the game.
The run blocking was adequate but its worth noting that the Bears had two shots near the goal line in the second quarter and couldn't get the ball in. They're obviously stil not a power team.
The passing game was helped a great deal by the Bears putting Royal into the slot where he belongs. His quickness is his strength and he looked excellent this game.
Marquess Wilson finally had a good game, as well. After a season and a quarter, its about time he showed up.
Jacquizz Rogers was first off the bench in place of Matt Forte despite the fact that rookie Jeremy Langford was the one who didn't get a snap last week. To my eye Langford is running better.
Charles Leno held his own for the most part, as the Bears didn't seem to go out of their way to give him tight end help. Patrick Omameh, who replaced Matt Slauson at left guard after Slauson took over at center for an injured Will Montgomery, is a different story as he struggled. Slauson tried to help him as much as he could.
How Martellus Bennett ends up all alone in the end zone in the second quarter I have no idea. But that's and inexcusable breakdown in coverage. Good job by Cutler finding him in coverage.
Kudos to Bennett. the game for the Bears was mostly Forte left, Forte right, Bennett for the first down. He was a very dependable target on third down.
Defense
The Bears really didn't do anything fancy on defense in the first half. It was the standard 3-4 and standard nickel with very little blitzing. I thought the pressure was adequate but the coverage was occasionally poor as Amari Cooper had a big game.
The Bears used Tracy Porter on Cooper rather than last year's preference for such assignments, Kyle Fuller. Porter struggled.
Latavius Murray is one impressive back. With his upright running style, I haven't seen anyone who reminds me so much of Matt Forte – with more power. He was a total mismatch for the Bears linebackers.
Pernell McPhee once again had a good game today as was Sam Acho taking over for the now departed Jared Allen on the other side.
The defensive line was stout as well. Jarvis Jenkins got his third sack of the year. That's a career high, folks. Mich Unrein spent some quality time out on the field.
J'Marcus Webb had no pre-snap penalties, as was his habit when he was with the Bears. He had his share of problems but the move to guard was a good idea from the Jets.
The Bears were tackling well today.
I would say that Derek Carr had an average day at best. He was more inaccurate than he has been most of the season and, like Cutler, there were some passes in the second half that left me shaking my head. He did hit some big throws, though, and he's got a quick release with some zip on the ball.
Miscellaneous
I would say that Greg Gumbel andJamie Erdahl were competent. I wasn't overly thrilled with Trent Green. No real great insight into the game but I felt like most of the obvious points were covered. I can't say that I learned much.
Major disadvantage of watching a game on CBS? The lame commercials for some very lame TV crime "dramas" that only my 70-something year old father and mother could bear to watch.
The Bears special teams woes continued. Robbie Gould was off today with a new holder in Spencer Lanning, a blocked extra point that didn't look like it was on course anyway, and a short kickoff that bounced out of bounds. And that was just the first quarter. Gould kept kicking short pop ups, a strategy I don't agree with. Gould had a great 54 yard field goal in the fourth quarter.
The Bears just commit too many penalties for their style of play. And seven is too many. The return team found a new way to screw things up with a holding call in the first quarter. And in the second quarter. Leno had a holding call. Zack Miller had on near the goal line as well. Vlad Ducasse had his usual pre-snap false start as well. He also had a holding call that was declined.Having said that, there were some very questionable calls on the Bears this game. A hands to the face call in the third quarter didn't even look like there was anything even close to the Raiders receiver's head and there was a delay of game for "spiking the ball" in the fourth quarter looked very questionable.
A lot of drops in this game. Josh Bellamy dropped a touchdown pass in the first quarter. Eddie Royal had a drop. Wilson had a critical drop in the fourth quarter on the final drive.
Like the penalties, needless to say this Bears team can afford no turnovers. Cutler fumbled a snap with a new center in Slauson giving the ball ot Oakland at the Bears 25. That resulted in a touchdown. Pernell McPhee got a gift interception near the end of the first half. That resulted in a field goal. Matt Forte fumbled the ball near the beginning of the second half, killing what looked to me like some building Bears momentum. Acho had a huge recovery of a Murray fumble in the fourth quarter as the Raiders were driving for a go ahead field goal. Cutler, of course, threw his usual pick to old friend Charles Woodson in the fourth quarter. The ball was behind Bennett.
This was an awful game for banged up Raiders. There were bodies with white jerseys littering the ground for all four quarters. Some of them like Michael Crabtree and Latavius Murray came back but even they were nicked up pretty good. The Bears lost Montgomery and Antrel Rolle.
Lots and lots of very loud Raiders fans filling in the empty seats at this game. This is what happens when you price out the faithful and sell the seats to faint-heart upper-middle class yuppies.
There was a lot to like about this game and I tried to list as many as I could above. Honestly, I'm really happy with the win.But I can't help it I have to point out that the Bears have to play with more discipline if they are going to continue with this type of game plan. Ball control offense with plenty of runs and a short passing game is fine, especially against a team like the Raiders that has allowed tight ends to run rough shod over them for four games now. But the Bears can't have these penalties and they can't turn the ball over. They won't beat good teams this way.