Bears
Chase Stuart at The New York Times thinks history indicates that this will be a Bears team that once again comes up short:
"For Chicago, 2012 feels a lot like 2001 or 2005 or 2006 or 2010, only more so. The defense is as dominant as ever and the special teams have been outstanding. But whether Chicago can finally win another Super Bowl may depend on how the offense operates. With Matt Forte, Chicago has its most effective offensive weapon during this stretch, but in 2012, success in the passing game is paramount. According to ESPN's Total QBR, Jay Cutler ranked as the 20th-best quarterback before Monday night's game. Even worse, Cutler is averaging just 5.7 net yards per pass attempt, placing him 26th in the N.F.L. Even though the Bears have a dominant defense, to defeat the Giants, Packers, Falcons and 49ers, the Bears can't afford to have Jay Cutler play like the 26th-best quarterback in the league."
"(on how he was able to get into a rhythm in today's game)

"'It took a little bit of time. I think we shortened up some of our routes, just tried to get the ball out quicker, get it in the receivers hands and get some rhythm that way. Then when they came up we hit that bomb with B (Brandon Marshall), so it came throughout the game.'"
and Cutler again on his fumble:
"(on his conversation with quarterbacks coach Jeremy Bates after his fumble)

"'It was a good exchange. You know, I just tried to do too much and I think he was just trying to emphasize that point — to play within the play, trying to get B (Brandon Marshall) the ball. We had single coverage with him, but timing wise that play didn't allow for the time I needed. We just have to play within the play, and we just have to limit that stuff, especially down in the red zone."
Cutler has been saying a lot of the right things lately. I'll be more impressed if he keeps it up when things aren't going well for the team. But for now, its still notable.
Vaughn McClure at the Chicago Tribune says that Alshon Jeffery returned to practice Friday as the Bears try to force the Texans to prepare for him. Jeffery had no comment after practice, probably because he didn't want to lie and say there was a possibility he will go. He's doubtful for the game.
"'Right now we're talking an awful lot about our defense,' Smith said at his Monday press conference at Halas Hall. 'But before this season is over — hopefully this week — it's going to shift, where we're going to be talking an awful lot about the weapons we have and the offensive plays that we're making.'"
Bold talk. Here's hoping it's more than just wind.
"When do you think Chris Conte's cheap shots and Brandon Marshall's push-offs are going to cost the Bears a game? — Marc, Downers Grove

"I don't consider Conte a cheap-shot safety. I think he's smart for making receivers think twice about coming over the middle, and I don't think he did anything wrong to draw a penalty and fine against the Panthers two weeks ago. Titans coach Mike Munchak appeared to be upset about Conte knocking down wide receiver Nate Washington after a third quarter touchdown. Conte probably could have avoided Washington, but really all he did was run into him and put his hands out. If he really wanted to lay him out, he could have. He chose not to. As for Marshall, he has been penalized once all year, for a false start. Marshall pushing off has not been a problem for the Bears. I think he does it very well and knows what he can and can't get away with."
"UNSUNG HERO

Stephen Paea, NT: Paea very quietly — and very productively — has gone about his business since winning the starting job in Week 2. By eating double-teams and plugging holes, Paea (five quarterback pressures, 11/2 sacks, two tackles for loss) is a big reason for the Bears' success against the run."
Brad Biggs at the Chicago Tribune reports that D.J. Moore lost the nickel back job Sunday. Its notable because he's pretty good at generating turnovers. But he's not as reliable as [Kelvin] Hayden will be in coverage and you get the feeling the coaches have been trying to find a spot for him since camp. It will be interesting to see how this affects Moore. His comments were professional but inside he must be pretty angry.
"Lance Briggs can still play and he's playing his (butt) off, but Brian Urlacher is beaten up and just getting by. I don't think he has played well at all this year, and he's really starting to wear down. If we were to play them, I'm running it right at him every time."
"The Bears thought they could get pressure up the middle because in their preparation they noticed personal protector Jordan Babineuax released early to get downfield and cover. That is exactly what he did. Steltz ran a stunt in the middle of the line and the Bears figured he or maybe [Corey] Wootton could get pressure on punter Brett Kern. It turned out [Sherrick] McManis was unblocked off the edge, allowing him to pick the ball off Kern's right foot. Wootton scooped it up and carried Kern into the end zone.

"'Normally, we are more of a return team but we saw something that we could exploit them on,' Wootton said. 'We went after it. Sherrick wasn't even supposed to be the guy that comes free. That is why you always rush hard.'"
"The viability of the Bears special teams genius as a head coach becomes a story every year, so, why wait?"

"… Toub's name and accomplishments will come up Sunday night. You watch, Al Michaels and Cris Collinsworth will talk about Toub's magic touch and perhaps get to his candidacy to run a team."
It's really only a matter of time. Toub has proven over a number of years that he can get the best out of a variety of types of players on a unit which, by its nature, has a large turnover every year. I can't think of a way to better train to take over a team as a head coach.
Pompei, this time writing for The National Football Post, asks the question: "Is the executive of the year in the NFL going to be Phil Emery? Or Jerry Angelo?"
Sometimes I wonder if there aren't hero worshiping Bear fans out there who are willing to believe this. From ProFootballMock.com
Titans
This article by Andy Benoit at Football Outsiders is strongly recommended reading for anyone who wants the small details of the Bears-Texans Matchup and the way they'll likely approach the game. The article is so good, I can't quote from it because I'd end up putting the whole thing up.
"The Bears play a gap-control defense and when everyone fills his assignment, a runner has no place to go. But they are so fast up front and pursue to the ball so hard that sometimes cutback lanes open up. When that happens, it's 10 or 15 yards before a safety must make a play in the open field.

"The Texans have plenty of weak and strong leads in their playbook, and Foster's patience is what sets him apart. With coach Gary Kubiak coming from the Broncos, it's similar to what helped Terrell Davis and Clinton Portis have terrific seasons."

"[Defensive coordinator Rod] Marinelli says the Texans like to start running outside zone plays to stretch a defense and widen lanes then hit leads, attacking the middle of the defense."
"The most challenging aspect for the Bears' defense Sunday might be staying disciplined against a team that relies heavily on play-action-to-bootleg plays. Last week, Schaub had the Bills swerving every which direction with such plays and one resulted in a 39-yard touchdown hookup with tight end Owen Daniels, a Naperville Central product."
"'We (will) double cover [Marshall] every play,' [Texans defensive coordinator Wade] Phillips said [Thursday] in his press conference in Houston. 'That's our plan. We're going to double cover him every play, so see what happens.'"
"[Offensive coordinator Mike Tice said,] 'We just need to put a couple of drives together. We need to get that rhythm.'

"Cutler never found it against the Packers and their 3-4 scheme, which is very similar to the Texans' defense.

"'[The Texans] present a lot of challenges,' Cutler said.

"The Packers were able to neutralize wide receiver Brandon Marshall by using 'two-man' coverage.

"Essentially, they had two safeties over the top while underneath man-to-man coverage was employed using a trail technique."

"The Bears believe they do well against 'single-high' man-to-man coverage (one safety over the middle). The Texans used that against the Packers at times and were burned."
Single high or two high, the only guy is is going to consistently get open against man underneath is Marshall. Bennett will help.
Having said that, the key to me isn't so much the coverage as pressuring Cutler while keeping him in the pocket at the same time. If the Texans' do that, their defense will do well. If they let Cutler escape, he's got the talent to burn them both with the run and by buying time and space for the pass.
"All things considered, it's difficult to imagine anything other than the kind of brawl that's decided by who makes the fewest mistakes.

"In that case, it's easier for me to trust Matt Schaub, who's more of a big-armed game manager, than it is Jay Cutler. And that's bothersome."
Yes, it is bothersome. McNeil is probably worried more about interceptions but Cutler's recent penchant for fumbling the ball could cost the Bears more here.
But I really don't think Cutler is what everyone should worry about. Its the stack of penalties of all kinds which the Bears offense and special teams both have been committing the last few games. If that happens Sunday night, the Bears are going to constantly be in third and long and they will have an up hill battle beating a good team like this one.
Elsewhere
"You want to know what the difference is between winning and losing in the NFL? The margin of error is so small. It can come down to one player — hitting on one draft pick no one expects or finding a gem after the draft or in free agency — that can be the difference between making the playoffs and sitting at home. It can be the difference between keeping your job and losing it. It's not easy to swallow, but that's the cold, hard truth."
This injury is a new one on me. From The Sports Pickle.
And finally, the NFL mid-season logos have officially arrived. Also from The Sports Pickle: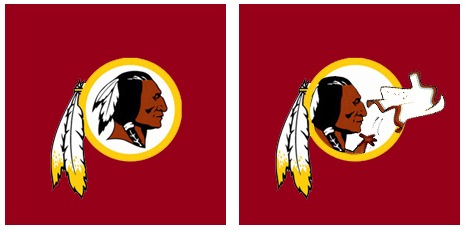 One Final Thought
"'I think the thing that eliminates most of (the rules disadvantages) for us is we play hard,' Urlacher said. 'We get 11 guys to the football. The ball's coming out. We've got guys stripping the football. And usually when they come out, unless they go out of bounds, we get them because we have so many guys going to the football.'"
I'm going to mildly disagree. I think a lot of defenses play hard. I think what set the Bears defense and other good defenses around the league apart is the very good fundamentals they display. I'm no expert but I know bad tackling when I see it. I don't see it much with the Bears. They usually play with discipline and its a good thing because when they don't, they look very average (or worse) no matter how hard they play.