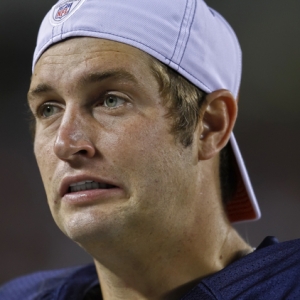 Jerome Blattner once said "A person who trusts no one can't be trusted." We're about to see if and how that applies to the Chicago Bears quarterback situation in the aftermath of their attempt to trade quarterback Jay Cutler to the Tennessee Titans for the number two overall pick last night. John Mullin at csnchicago.com quotes Bears general manager Ryan Pace on the question of whether they tried to pull such a trade off:
"'In my mind, we just got Jay another dynamic weapon,' Pace said. 'That's why I'm excited about it. I hope right now he's fired up because we just gave him another powerful weapon. With this receiving corps, this only adds to Jay's ability to distribute the ball.'"
That's not a denial. And it could mean trouble.
I'm of two minds when it comes to the attempt to trade Cutler. Rick Morrissey at the Chicago Sun-Times perfectly summarizes at least one of those:
"There is something unsettling about Jay Cutler continuing to get rewarded with talent around him [wide receiver Kevin White]. I'll admit to more than a small hope Thursday that the Bears would move up to the second pick, trade Cutler to Tennessee and use the Titans' pick to choose Marcus Mariota. But Tennessee stayed put and took the Oregon quarterback.

"What we've learned the past six years is that no matter how talented the players who line up on offense, Cutler tends to bring them all down to the mean. And by 'the mean,'' I mean 'disappointment and disillusionment.'' An offense with [Brandon] Marshall, Alshon Jeffery, Matt Forte and Martellus Bennett should have been better then 21st in total offense, as it was last season."
There was a part of me – about half – that really wanted the Bears to complete this trade just to see Cutler leave town. But there was, on the other hand, the thought of the rest of the price that the Bears would have to pay in order to make that move – a package of picks including multiple first rounders. That's a high price for a team with the number of holes the Bears have to fill.
What's most relevant now is what effect this will have on Cutler. Most will recall that a similar situation in Denver where they tried to trade him resulted in him leaving Colorado and eventually becoming a Bear. I'm not saying that Cutler is going to go to Tennessee and pout this time around – he has grown at least that much. But the effect on his psyche could be more subtle and more damaging.
Cutler's primary problem is that he has a very hard time trusting people. He doesn't trust his coaches, he can't throw with anticipation  because he doesn't trust his receivers, heck he even backed out of his engagement before finally coming to his senses and marrying Kristin Cavallari. Now Cutler has been given tangible proof that he can't trust the current Bears regime, either. They might not have lied to him. But at bare minimum they have now made it clear that they aren't 100% behind him to run this team in action as well as in word.
My guess is that publicly Cutler will handle this move by saying and doing all the right things. But how it affects his performance on the field is another issue. He's fragile even at the best of times. We may see a new level of unstable this year if the Bears aren't careful.