Kevin Fishbain at chicagosports.com reviews the performance of the offensive line in 2015:
"Next for [offensive line coach] Dave Magazu and [general manager Ryan] Pace is finding a starting right guard, whether it's through the draft, free agency or bringing back [Patrick]Omameh or [Vlad] Ducasse and hoping for improvement. The Bears also have a developmental prospect in tackle Tayo Fabuluje."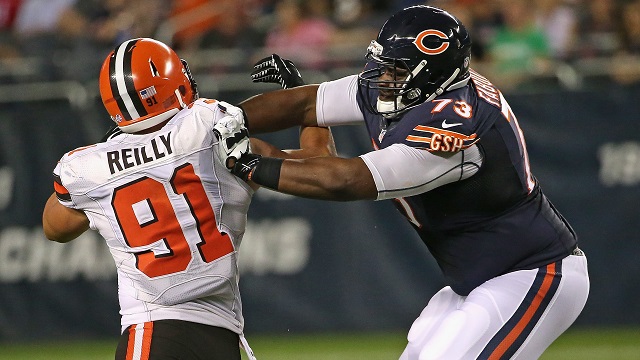 No doubt about it. Almost every position could be improved but right guard is the major hole in the offense right now.
In this regard, Fabuluje is a fascinating prospect. He played extensively in the preseason but very little during the season. Despite that, the Bears kept him on the roster rather than putting him on the practice squad and risking the possibility of losing him to another team. That's a pretty good indication that the team has plans for Fabuluje.
Most have considered Fabuluje to be a tackle prospect and that's where he played in August. He's an enormous man but has quick feet despite that and he has the mobility to be a reasonably good right tackle. But more and more during the offseason we are seeing the suggestion in the press that his future is at guard.
It's not a bad idea. Right guard is the more difficult of the two guard positions and requires more athleticism than the left. Most teams scheme their line play such that the center and the players on the left block to the left. The right tackle usually turns to the right to take on the right end. That leaves the right guard isolated on whoever lines up over him. So despite being "land locked" with a player on either side, it's a still position that occasionally requires the player to take on his man one on one in space. Fabuluje may fit the bill. In fact, given the borderline play of both Omameh and Ducasse, it's a bit of s a surprise that the Bears didn't move him there late in the season.
Regardless, it seems that after a year on the bench to develop, Fabuluje is going to get his chance to compete at a position of need in 2016. Whether he has the brains and the instincts to go with his athleticism will rapidly become apparent. If he does, along with veteran Matt Slauson, the Bears could have a very good pair of guards on their hands.