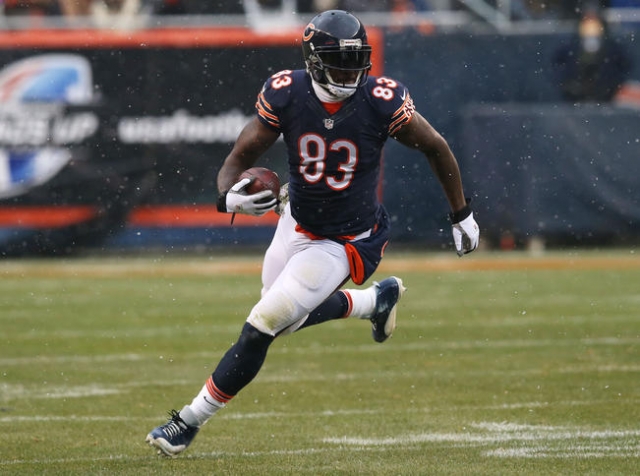 I was talking football with a friend the other day but not the kind we usually talk about here. He's Welsh and we were talking rugby. The rugby World Cup is being staged right now and we were talking about the French team's inconsistent play. My friend made the comment, "They're pretty good but the problem is that they're French. They only play when they want to."
Forgetting the uncalled for shot at the people of France, his point was well taken and it came to mind when I read Brad Biggs's answer to a fan question about Bennett in the Chicago Tribune:
"Bennett is a mismatch freak at 6-foot-6, 273 pounds but he's only a mismatch when he's using that size and length to shield defenders away from the ball and make the play. I don't think he's ever been known as a particularly consistent run blocker. In fact, he's regularly inconsistent. He's got the ability to be quite good at it when he wants. There have been a few drops, too, as you note.

"But the Bears knew what they were getting when they signed him to a four-year contract as a free agent in 2013. He's a mercurial dude that marches to the beat of his own drum. The Cowboys knew that. The Giants, after one season, knew that. Bennett sought a contract extension (or raise) in the offseason and didn't get it. The surest way for him to be paid with one year remaining on his deal is to have a monster final 10 games. If he outperforms the contract with only one year remaining on the deal, he just might be able to make a case for himself or create a situation where he achieves his goal. If he putters along, it's going to be difficult for him to leverage more money from the Bears (or any other team)."
Last offseason I was worried that Bennett might let his denied quest for more money affect his play this year. I shouldn't have. Bennett has said – and I believe him – that he was seeking more money as a matter of principle. Because everyone should always be seeking more money. That sounds like him.
What also sounded like him were his comments three weeks ago on the Bears rebuilding program. Bennett said that he was all in on it but it came across as the kind of thing you say because you think fans, media and the team want to hear it.
Actions always speak louder than words and based upon what I've seen on the field, Bennett is not all in. He does occasionally put forth good effort to, for instance, lunge forward to get a first down or stay on his feet that extra second to get that extra few yards. But generally speaking his body language indicates that he's been less than enthusiastic and there are definitely times, particularly over the last couple games, when I thought he could have fought harder for the balls (albeit, not particularly well placed ones) from quarterback Jay Cutler.
Bennett knows as well as you and I do that this team is rebuilding and isn't going to be winning any championships any time soon. Unfortunately, unlike you and me, he probably gets no particular thrill from watching talented but raw young players develop into very good professionals. Many players could continue to put out their best effort on every ball of every game anyway. But its obvious that Bennett isn't one of them.  I think that mentally he's too honest with himself.  He's just not built that way.
There's been a lot of talk for years about trading running back Matt Forte and I, myself, broached the topic of whether you eventually let Alshon Jeffery go for a high draft pick depending upon how he plays for the next few games or so. But Bennett is the guy that they should really be considering letting go for a mid-round conditional pick. He's got an attitude towards authority that nothing is going to change and which could hurt a developing young team. And they'd be doing him a favor by trading him to a contender for whom he could perform. Until then, there's very little anyone can do to help this situation.  Bennett is going to play only when he wants to play.