Bears
Joe Cowley at the Chicago Sun-Times quotes wide receiver Brandon Marshall as he describes how Jay Cutler has improved as a quarterback since the days they were together with the Broncos:
''Now, Jay knows how to manipulate defenses with snap count, body language and hand signals, so it's exciting to see him work.''
David Haugh at the Chicago Tribune gives his opinion on the competition at left tackle:
"The Bears preach patience with [J'Marcus] Webb. But I wonder if someone so consumed with being popular — the self-appointed head of "JWebb Nation,'' also posted a video of him ordering fast food — understands all it takes to become proven in the NFL. Those concerns made it all the more curious when Lovie Smith made it clear that Webb had won the job before the first exhibition game. Why not let a real competition play out?
"While Webb's ceiling might be higher than [Chris] Williams', it means nothing to a Bears team built to win now if the 24-year-old cannot figure out how to reach it sooner than later. I would lean toward starting Williams, a serious veteran whose best might not approach Webb's but whose worst should kill fewer drives too."
Haugh has a point. Even worse, I would suggest that Webb, in his third year, has no future with the team at all if he hasn't lost most of his incosistency by now. The fact that he quickly managed to jump offsides in the first preseason game after, I'm sure, being beaten to death with criticism from Tice over such things all offseason, makes me very much wonder if there's any chance he has.
"Jeff Otah and Chad Clifton probably aren't healthy enough. Marcus McNeill retired. Kareem McKenzie is out there, but is he really better than what the Bears have?"
On a related note, I want to thank Pompei for suggesting something I've been say ing for a long time. The fact that Mike Martz is gone is not necessarily going to mean the offensive line (or by extension the offense) is going to be better:
"'You have to protect your offensive line,' Bears coach Lovie Smith said. 'To me, very few tackles can handle a good defensive end one on one. So you have to protect them, there is no way around it. Especially on the road, in a dome, you have to give your linemen help. Giving them help can be running the football too. We have a plan.'

"'What few people remember is the Bears had a plan last year too. Despite Mike Martz's reputation, he gave the offensive line help in many circumstances.

"Despite that, the line was not good enough last year."
"Special teams coordinator Dave Toub said in some cases on kickoffs, [Eric] Weems' straight-forward return style will benefit the Bears more than Hester's elusiveness.
"'With what we do, we do a lot of doubles teams, and we want to run right at the double team.'''
There is one thing that seems to be evident from the preseason games we've seen. From Pompei:
"Players [Cutler] is throwing to are capable of getting yards after the catch. Only five teams in the NFL had fewer yards after the catch last year than the Bears, according to STATS. That should not be the case this year."
"The Redskins didn't have success covering Rodriguez with a linebacker (he beat Bryan Kehl for a 14-yard gain) or a safety (Jordan Bernstine struggled to stay with him on a 19-yard reception)."
Before you get too excited about the performance of the defensive linelast Saturday, the Redskins offensive line was missing three starters. From Mark Maske at the Washington Post.
Yeah, this sounds more like it. From The Onion.
And so does this via SportsViews: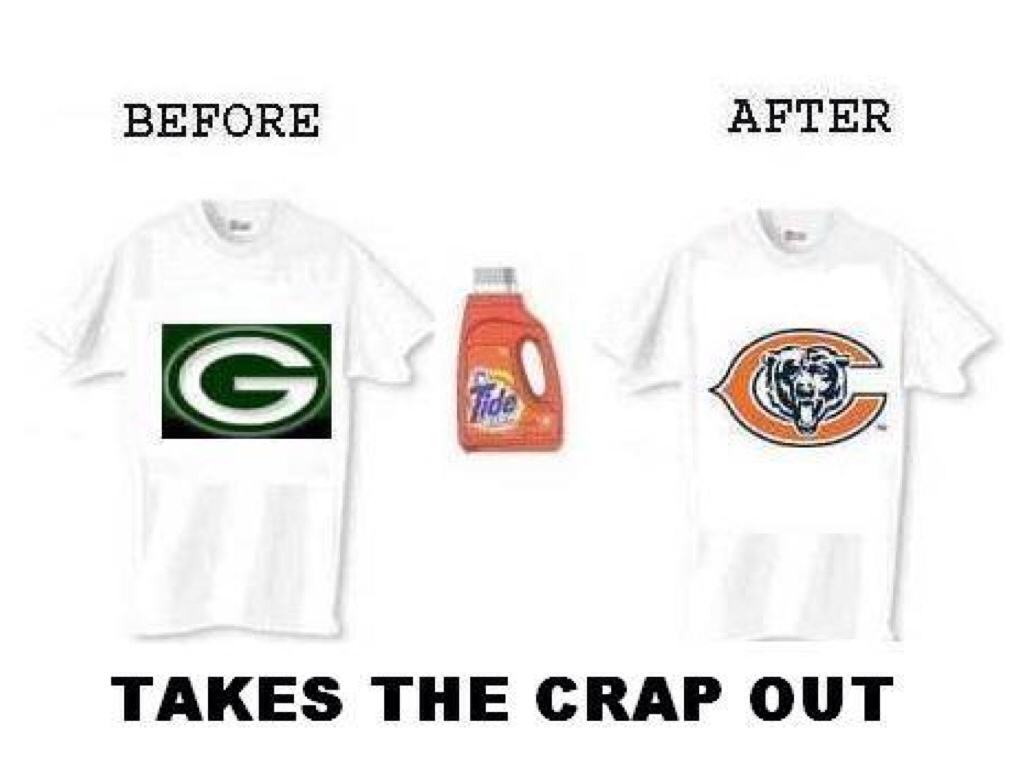 Elsewhere
"From his first pass attempt at Soldier Field, Griffin had the look of an overwhelmed newcomer. Throughout a shaky 26-play performance, Griffin held the ball too long, absorbed unnecessary hits and failed in his first responsibility: Ball security."
On one of the first plays from scrimmage he dropped back and his first read wasn't there. No one was near him but he immediately started running. You're going to get that for a while with this guy.
"Paul said he was encouraged by the in-game adjustments he was able to make. On the missed pass from Griffin, Paul said he was running full-speed and wasn't able to turn all the way around to snag the pass that was slightly behind him. Later in the game, however, he was running the same route when Cousins threw to him, and his timing was better so he was able to turn fully and make the catch and then pick up yards after the catch."
The Seattle Seahawks have apparently come to grips with what everyone in the NFC North already knew – Tarvaris Jackson can't play quarterback. Jackson says he's willing to take a pay cut to facilitate a trade but I'm not sure there's anything else out there for him. Certainly nothing that's going to improve his situation much over what it already is in Seattle.
Via Josh Alper at profootballtalk.com we have this quote that might as well also be about Brian Urlacher (assuming he makes it back for Week 1 of the season at all):
"Said Saints coach Joe Vitt of CB Patrick Robinson's play in his return from a shoulder injury, 'Listen, I don't care who you are or how many years you've played in the league, playing this game isn't like riding a bike. You learn to ride a bike when you're three years old. You can ride one when you're 80 if you can get on it. You have to be fine-tuned to play this game at a high level. It's a game of angles and timing. You have to be in sync. Patrick was a little rusty early in the game last night missing some tackles, but that's why we play these games and that's why we practice every day.'"
Think the Bears are the only ones with trouble at offensive tackle? Think again. From Zach Schonbrun at The New York Times:
"[Jets right tack Wayne] Hunter seemed like a pinwheel in the wind when he was matched against the Giants' pressure."
One Final Thought
Ugh. From The Sports Pickle: