Hub Arkush at chicagofootball.com answers your questions:
"From @chaparral276: Any changes coming in the Bears' secondary?

"It's hard to imagine Terrance Mitchell not getting a start at cornerback or at least as the nickel before too long."

"[T]here is no point in going too far with Alan Ball, as the Bears should know in his eighth season exactly what they've got and Sunday vs. the Pack it wasn't nearly enough.

"Sherrick McManis also struggled vs. the Packers as the nickel after a great preseason so he had best turn it around soon.

"I'm guessing the Bears are hoping to look at Ball and McManis at least until they can get Tracy Porter's hamstring healed and then he'll get a good look, too, but again, after seven seasons I'm not sure how long that will take.

"I'm guessing Mitchell gets a start in one of those three cornerback spots by Week Five or Six."
There's a part of me that things that Hub's bing a bit tough here. And there's a part of me that doesn't.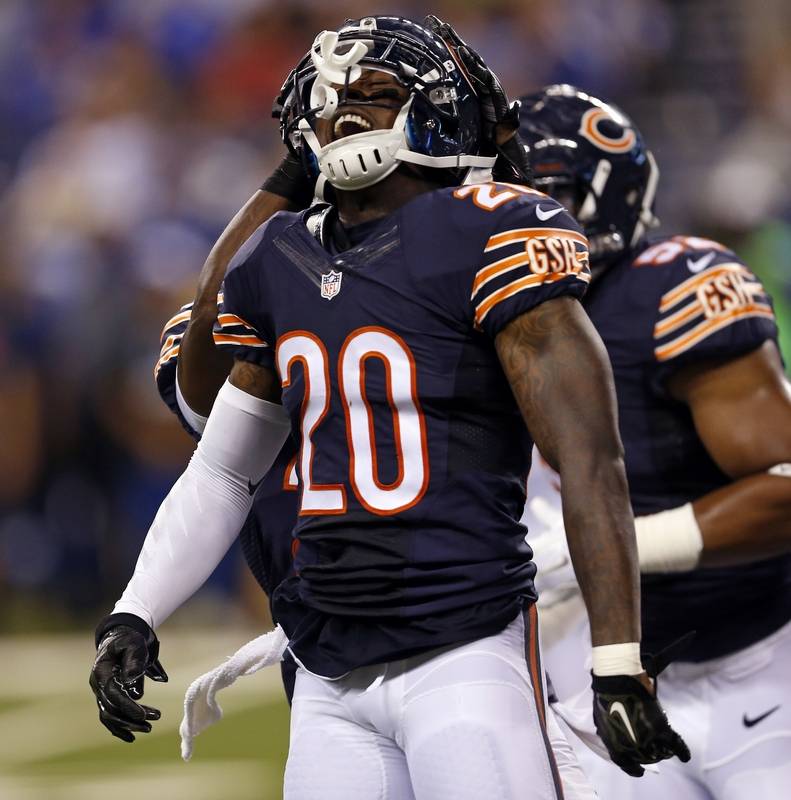 Hub sometimes becomes biased when it comes certain players and it causes him to see what he wants to see rather than what is. For instance, he saw a very good performance from quarterback Jay Cutler last week while many of the rest of us in Chicago saw an inaccurate mediocrity that had a passer rating less than 30.
I think something similar might be going on with Ball. He actually had good coverage the majority of the time last week. It's just that Aaron Rogers was putting the ball in perfect spots. It was impossible to defend. I won't defend McManis quite so strongly but he was up against Randal Cobb, after all. That's not an excuse. Its just a fact.
On the other hand, there were no interceptions last week. That can't continue. And there's no getting around the fact that Bears lack speed in the defensive backfield.
And, finally, Mitchell is a young player that we'd all like to get a look at and see develop. Mitchell played in all four preseason games and flashed potential with nine tackles, an assist and two interceptions.  He was active against Green Bay but didn't have a stat line.  He's reasonably good sizes at 5'11" and 190 lb in the mold that this coaching staff likes.  And I'm reasonably sure the coaching staff would like to continue to get a better look at him, too.  Head coach John Fox had some nice things to say about Mitchell  after his Colts interception:
"That was a big-time play.  That's a good catch whether you're playing wideout or DB. But it was a very similar route to what we had earlier in the game. And he squeezed it pretty good and went up and made a great catch."
Mitchell plays better when there isn't a lot of traffic and communicating that needs to happen and it's been speculated that he could be at his best on an island covering a receiver.  Those communications issues may need a little time to resolve themselves so week five or six might not be a bad estimate in that he may be deemed ready by then.
Bottom line, I'm not quite ready to toss away the Bears cornerbacks just, yet. Talk to me after the game today where the Bears play a team that, though still decidedly more talented than they are, isn't quarterbacked by Rogers. If they look as below average as the Packers made them look, I might be more inclined to be more critical.