Bears
Brad Biggs at the Chicago Tribune does another positional analysis, this time of the offensive line. He concludes that the Bears need two linemen, probably one veteran and one draftee, probably one for the interior who can play center and probably one for the tackle position. I generally agree. Perhaps the most interesting point was his bottom line:
[General manager Jerry] Angelo has his work cut out for him. The Bears assign one person to be a crosschecker for each position in the draft, an overseer if you will. Angelo has been that man for the offensive line. The draft is his baby and the line has been his position. It's time to produce.
David Haugh, also at the Tribune, talks to backup quarterback Caleb Hanie.  The Bears are in a bit of a bind with Hanie because they'll probably have to pay $1.759 million next year to keep him.  I found this quote to be interesting:
"'You think about fourth-and-4, if I had just pumped that ball into Earl (Bennett),' Hanie said. 'Or on (B.J.) Raji's (interception return for a touchdown) if I would have taken just three steps instead of five steps, would he have just missed it. Or if I had gotten reps on that play, I would have maybe progressed over to Devin (Hester). But that's how it goes sometimes."'
This is the classic "loser's lament", worthy more of a Lions player who is still learning how to finish a game..  Hanie should know than to make these kinds of statements.
Elsewhere
Tom Brady and Drew Brees averaged 44 attempts against the Steelers this year. They picked Pittsburgh apart with short precision passing for 655 yards, five scores, and one pick.
I doubt this fact has been lost on the Packer coaching staff.
In any case, hope that the Packers coaching staff will still be raided is not lost (yet).  Let's not forget that Dom Capers would certainly still look good on that Titan sideline as head coach. Assuming Green Bay head coach Mike McCarthy doesn't decide to refuse to give him permission to interview, of course. After all, he might find his way from there to the Bears one day.
"Rush four—and drop seven. That's it. Whenever you send the corner cat (Sam Shields in this situation, "C" in the white square), you are playing coverage in the backend and looking to steal a play."
Raji is the defensive tackle that drops into coverage as Shields rushes.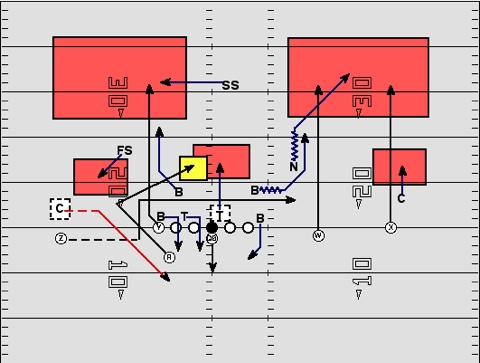 "Dom has done more as far as moving people around," Fox analyst Jimmy Johnson said. "LeBeau has done a fantastic job, but they are pretty standard with their zone blitzes. They let their players' abilities be better than the guy across from them. Dom really moves his people around a lot. They can be coming from anyplace. He's probably a little more diverse than LeBeau."
"Tell me how the Packers do at stopping Rashard Mendenhall, and I think I can tell you who wins this game."
Mustain was rated ahead of Tim Tebow and behind only Matthew Stafford among prep quarterbacks in 2006.

But don't let that spoil the rest of National Signing Day.
Some of the Super Bowl ads are starting to hit the Internet.  This Doritos commercial looks promising.
One Final Thought
Via BenMaller.com we have this little nugget for those thinking of investing in the Super Bowl.  R.J. Bell at pregame.com says that Vegas has won money on 18 of the last 20 Super Bowls – the exceptions being 2008 (Giants vs. Pats) and 1995 (49ers vs. Chargers).  What's the estimated net amount that gamblers have lost over that time period?  Over $11 BILLION dollars.
Don't go betting the house on this one, folks.  Or barn if you live in Green Bay.