Nate Atkins at chicagofootball.com makes the case for the Bears to draft Marcus Mariota if they get the chance:
"Mariota will need time to grow, which is just a continuation of the path he's been on for years. In the two years between committing to the Ducks and becoming their starter, Mariota made football his life, transforming from an overly emotional teenager to one of the most stoic stars in the game.

"He drew Oregon's gazillion plays on school notebooks so he could teach them to teammates in practice. He wrote his entire Heisman acceptance speech on a piece of photo paper so he could follow it in one of the toughest moments of his life. Process is his refuge."
"You reach a point in staring into the eyes of a man that you start to see the person he's becoming rather than the one he just left behind. In Mariota, you see all the tools – the 6-4, 225-pound frame; the 4.52 speed; the strong arm; and the instantaneous release – and maybe the question to ask isn't if, but when?"
This is some nice insight in a well-written article. Mariota (below) has risen in the estimation of many evaluators in the media as they've had more and more time to study him.  It seems that many are realizing that he did more in the Oregon offense that translates to the pro game than they had originally thought.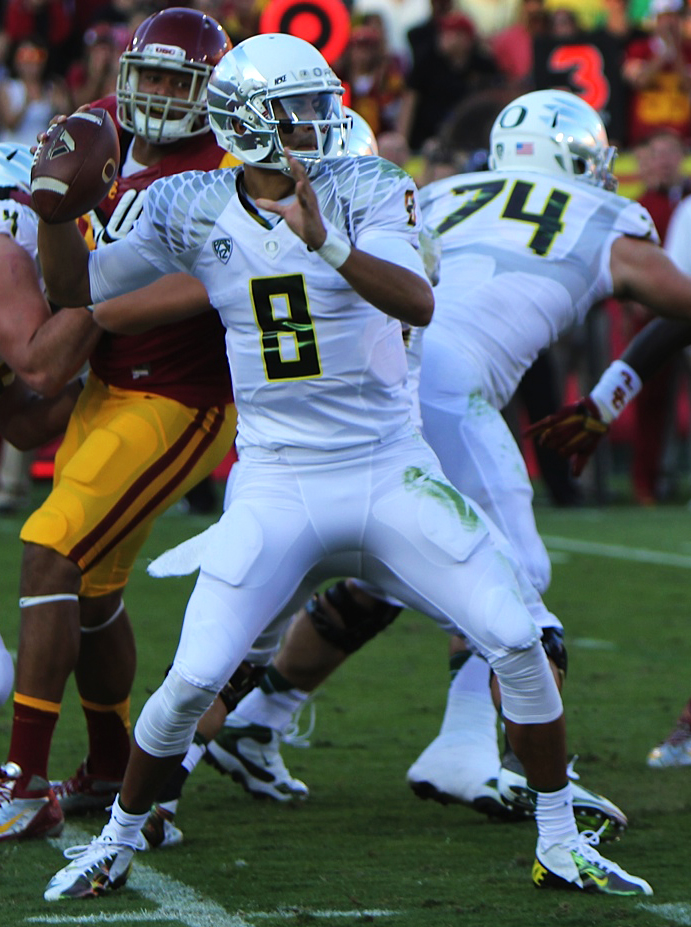 Atkins seems to take seriously the idea that Tennessee would trade the second overall pick for the Bears pick and Jay Cutler. He doesn't say so but I'm sure he realizes that the Bears would have to throw in more.
More likely the question of whether the Bears should take Mariota will come if he actually falls to the seventh pick. Last week I would have said, "Trade down and take the extra picks." The Bears have needs all over the field and the opportunity to take more than one young, cheap playmaker with an extra pick or two would be too great to pass up.  But now I'm not so sure that Mariota isn't going to be the answer at the most important position in football. For someone at least.