Brad Biggs at the Chicago Tribune puts up his mock draft. Here are his top 10 picks:
1. Buccaneers: Jameis Winston, QB, Florida State

2. Titans: Marcus Mariota, QB, Oregon

3. Jaguars: Dante Fowler, DE, Florida

4. Raiders: Leonard Williams, DT, USC

5. Redskins: Vic Beasley, OLB, Clemson

6. Jets: Randy Gregory, OLB, Nebraska

7. Bears: Amari Cooper, WR, Alabama

8. Falcons: Bud Dupree, DE, Kentucky

9. Giants: Brandon Scherff, OL, Iowa

10. Rams: Kevin White, WR, West Virginia
It's an interesting grouping if only because it breaks down into tiers which reflect Biggs's priorities by position: quarterback is the first at one and two because that's the most important, then pass rushers at three, five and six, and finally the other positions at three of the last four spots.
This is fine in that it almost certainly reflects the thoughts of virtually all fans, and I would dare say all NFL general managers as well. But the problem is that Biggs takes it too far.
Though he's certainly not worthy of the two spot, I get the Marcus Mariota pick and it may well happen, though I'm guessing that if it does, its not likely to be the Titans picking there. However, prioritizing Dante Fowler over Leonard Williams, the best prospect in the draft, isn't what I would call good thinking. In fairness to Biggs, he's not the only media expert who believes Fowler will go first. But though Fowler's a great prospect, Williams is the consensus best player in the draft and as close to a sure thing as you can get – he's almost certainly going to be a dominant defensive lineman. He's the smart pick.
But those two decisions aren't nearly as surprising as taking Vic Beasley and Randy Gregory, both very risky prospects (for the top ten) over Amari Cooper, the most solid wide receiver prospect in the draft. Mel Kiper and Todd McShay recently did a live mock draft on ESPN and Beasley didn't even make the first round.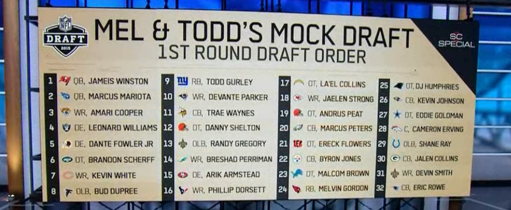 I, personally, like Gregory a lot but three failed drug tests, including one at the Combine, makes you wonder if he's not an addictive personality headed for trouble.
Bud Dupree, Brandon Scherff and Kevin White all have their risks as well but of the three, Dupree is the riskiest. Brandon Scherff is at worst an outstanding NFL guard. White is a one year wonder but he (arguably) has more dominant physical skills. Based upon the mock drafts I've seen almost no one would take Dupree over White.
This mock highlights the conflicts that must run through every general manager's head as they prepare for the draft. We're all familiar with the idea of drafting the best available and how that often conflicts with drafting for need. Biggs has written many times that drafting the best available player regardless of need is a fallacy in the NFL – and I absolutely believe him. But this mock draft might take it too far. As important as pass rush is in the NFL, teams can't afford to miss in the top ten picks. You can still draft for need but focusing on one position, admittedly a very important one, regardless of the grade on talent for the individual prospects sounds to me like it's asking for trouble. Here's hoping that the Bears don't force a pick in order to fill a position in such a manner.